Obaseki Reply Igbafe, Says APC Will Win September Election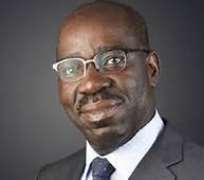 The Candidate of the All Progressive Congress (APC) in the just concluded Edo APC primary Mr. Godwin Obaseki has assure his critics that APC will remain in power in Edo State saying that the emergence of Ize Iyamu was the beginning of the APC Victor. Our victory will be land slide.
He appealed to his critics to give respect to constituted authority and party leadership that conducted the last Saturday's primary election in the state. Politics is not a career, therefore we must not destroy our long standing relationship with ourselves and others just to score an insignificant point.
Obaseki who spoke in a statement issued by his media aide Benjamin Atu said it was wrong for madam Evelyn Igbafe to accuse Governor Aminu Masari of Manipulating a primary election that was bim live on several television stations as a displayed of transparency and inclusiveness. According to the statement, party loyalty starts from respect for party leadership.
He maintain that the victory was not for Obaseki but a victory for the party and the state. It is a war of words for Mrs Igbafe to criticise a process that was describe by state party chairman Mr. Anselm Ojezua and other APC national leaders as the most successful primary's ever conducted.
The media war is not our culture as members of the APC. He guaranteed the members of the party and those who are still in doubt that the All Progressive Congress APC will win the opposition party with a land slide victory in September.
We have the support of the masses. The forth coming election is not going to be based on personality struggle but on performance and total development of the state. PDP is a failure in Edo state and we need not lose sleep to win them. Benjamin Atu argue that Obaseki is the most sellable candidate based on his level of exposure and contribution to societal development.
The statement has however express gratitude to other aspirants who has phone Mr. Obaseki to congratulate him as well as others who has extend hands of fellowship with the peace committee of the party assuring them that their commitment to the general election will not be taken for granted. Benjamin Atu caution against inciting the public against the party and it's candidate. The used of unpleasant words to describe Mr. Godwin Obaseki is not in the interest of the party and it's leadership.
Effort been made by the party to bring all aspirants together as should not be describe as a wasteful ventures. The party is bigger than madam Igbafe and she was not appointed as the spoke person of the Edo APC. Therefore, she should not assume her opinion to be the true position of the party. Madam Igbafe should wake up to reality rather than playing an anti party game the statement added.
Benjamin Atu
Media Aide
08038847596.