62 Garlands For Bishop Leonard Umunna (Part 2)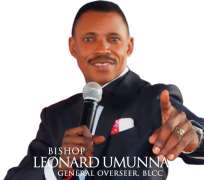 "A man's gift maketh room for him, and bringeth him before great men".-Proverbs 18:16
As Bishop Leonard Umunna, General Overseer of Bible Life Church Cathedral sets to celebrate his 62nd birthday bash on earth, there is need for the world to know some of his bishopric records that makes him different from other servants of God in Nigeria.
According to Bishop Leonard Umunna, age is just number and what makes your age special on earth when God's gift is made manifest in one's life. I have every reason to thank God for the gift of life despite several challenges to truncate my calling on earth. Every living being on earth must endeavor to work out their destinies and believe in God for divine manifestation. There are 62 garlands for Bishop Leonard Umunna:
1. He was born on the 25th of June 1954 in Imo State of Nigeria.
2. He received the call of God at 9.
3. He never had a secondary education but became Professor (Theology) with determination.
4. He worked his way out into Pentecostal fame in Christ.
5. He has written over 20 Christian literature books including circular ones.
6. He has never seen defeat or backslide in his life.
7. He has six children with many grandchildren.
8. He has passion for grassroots education and sports.
9. Bishop Umunna is a renowned philanthropist with legacy.
10. He is an entrepreneur with distinction.
11. He is a dramatist to the core.
12. He is a father of church drama in Africa.
13. He has one of the single largest churches in Africa.
14. He has passion in media evangelism across the globe.
15. He has in-depth knowledge of the word of God
16. Bishop Umunna is a seasoned coach on entrepreneurial and educational seminars.
17. He has grown Bible Life Church Cathedral from a single branch to many branches and fellowship centres in Nigeria and abroad.
18. He is a fearless preacher with divine authority.
19. He is a devoted counselor of the word of God.
20. He is humble and intelligent.
21. Bible Life Church Cathedral was founded over 34 years ago by Bishop Leonard Umunna.
22. He worked as a successful government employee and left for the call of God.
23. Bishop Umunna has never regretted going into full-time ministry.
24. He runs a media conference twice a year discussing national issues affecting Nigeria.
25. He wants other people around him to succeed in life.
26. His annual Bonanza programme in Ajegunle has so far recorded over thousands of people being healed from different ailments.
27. He is the voice of grassroots evangelism in Africa.
28. Bishop Umunna is accessible and firm in decision-making.
29. He does not tolerate indecent dressing among his church choirs.
30. He has trained several pastors doing pretty well in ministry across the globe.
31. He is a disciplined clergy to the core.
32. He is not carried away by mundane things but prefers to hear from God before embarking on any earthly journey to success.
33. Bishop Umunna's interest on earth to win souls to the kingdom of God.
34. He is devoted to heavenly race.
35. He loves reading books.
36. He is a songwriter and instrumentalist.
37. He is a gospel film producer.
38. Bishop Umunna is a mentor of mentors in Nigeria.
39. He has traversed into difficult terrain far away India and other countries to preach the gospel.
40. He is not afraid to die.
41. He is not an extravagant clergy.
42. He organizes annual sports and cultural fiesta for children in Ajegunle.
43. He is a detribalized clergy.
44. He has never prophesied doom for Nigeria since his calling into the kingdom.
45. Bishop Umunna is a man with gold heart.
46. He has received over 30 meritorious awards both Nigeria and abroad.
47. His bishopric voice is highly respected in government circle.
48. He is a technocrat to the core.
49. He has vast knowledge of the society.
50. He has escaped 99 times assassinations from his evil plotters.
51. He has one of the largest church camps in Ajegunle.
52. He is among the first Pentecostal pastors to bring Pentecostal changes to Ajegunle.
53. He preaches with wisdom.
54. He has love for good dressing sense.
55. He is a creative stylist.
56. His passion for education has made him to offer free scholarships for pupils and students in Ajegunle
57. He has respects for time management.
58. He is the father of widows in Ajegunle.
59. Bishop Umunna is a well-composed and articulated man of God.
60. He is not a man that makes promises without fulfillment.
61. His glowing legacies cannot be erased in the sands of time.
62. He is a role model in Pentecostal family.
Godday Odidi
Social Media Strategist/Blogger
08058124798
Lagos
Disclaimer:

"The views/contents expressed in this article are the sole responsibility of

Godday Odidi

and do not necessarily reflect those of The Nigerian Voice. The Nigerian Voice will not be responsible or liable for any inaccurate or incorrect statements contained in this article."
Articles by Godday Odidi