Aisha Buhari blasts Fayose over alleged role in Halliburton scandal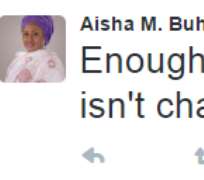 Aisha Buhari, the wife of President Muhammadu Buhari, has rebuked the governor of Ekiti state, Ayodele Fayose, over allegation that she was involved in the Halliburton scandal.
'Enough is Enough Fayose. A mad dog that isn't chained. I refuse to keep quiet,' the First Lady posted on her verified Twitter handle.
Earlier, the Presidency has said that Fayose acted so infantile by linking Aisha to US Congressman William Jefferson's bribery scandal for which the American lawmaker was convicted in 2009.
Following the blockage of account of the Ekiti State Governor, Mr Ayodele Fayose, which he operates with Zenith Bank Plc, the governor has vehemently reacted to the development, alleging that President Muhammadu Buhari and his family members are not saints after all.
Accusing President Muhammadu Buhari and his family of being corrupt, the Governor said in a press release by his Chief Press Secretary Mr Idowu Adelusi, that, ' Even the President cannot claim to be an angel. The estate he built in Abuja is known to us. His wife was indicted over the Halliburton Scandal. When that American, Jefferson, was being sentenced, the President's wife was mentioned as having wired $170,000 to Jefferson. Her name was on page 25 of the sentencing of Jefferson. We can serialize the judgment for people to see and read.