Saraki's allegation of bias against CCT Chairman frivolous – FG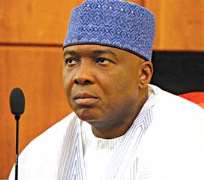 The Federal Government on Tuesday urged the Code of Conduct Tribunal (CCT) in Abuja to dismiss a motion filed by the Senate President, Dr. Bukola Saraki, asking the tribunal to direct its chairman of the tribunal, Danaladi Umar, to withdraw from further presiding over his (Saraki's) trial.
Saraki is being prosecuted by the Federal Government before the CCT on 16 counts, including false and anticipatory declaration of asset, which he allegedly made between 2003 and 2011 when he served as the Governor of Kwara State.
He is ‎also accused  of operating foreign accounts as a public officer and of receiving governor's salary or emoluments  in addition to his salary as a senator for some periods after completing his two terms as governor and got elected as a senator‎.
Describing Saraki's application seeking the CCT chairman's withdrawal from further presiding over the trial as frivolous, the counsel prosecuting Saraki on behalf of the Federal Government, Mr. Rotimi Jacobs (SAN), said the motion was filed to cause further delay in the case.
'On the whole I urge the honourable tribunal to dismiss the application. The application is frivolous, an abuse of court process and it is intended to delay this trial.  I urge your lordship to dismiss,' Jacobs said.
Jacobs said the motion was aimed at achieving what Saraki failed to get at the Supreme Court,  when in February this year, the  apex court in a judgment dismissed the Senate President's application seeking an order striking out the charges against him on alleged ground of lack of jurisdiction of the tribunal to try him.
'What they cannot achieve with Saraki Vs Federal Republic of Nigeria at the Supreme Court is what they want to achieve with this application. They know that the tribunal is made up of two members and once the chairman recuses (disqualifies himself) it will be left with only one member and will be  the end of the case,' he said. – Punch.