THAI PM PROMISES 'ROAD-MAP' TO SOLVE MASS PROTESTS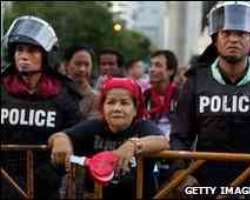 The stand-off in Bangkok has been going on for seven weeks
Thai Prime Minister Abhisit Vejjajiva says he is working on a "road-map" plan to try to solve the country's long-running political crisis.
Mr Abhisit said he was consulting widely in order to find a way out of the stand-off, which has paralysed parts of the capital, Bangkok.
He was addressing senators who had asked why it was taking the government so long to end the red-shirt protests.
The protesters are camped out behind barricades in the commercial district.
They began protesting on 14 March and say they will not leave until Mr Abhisit calls fresh elections.
He is under intense pressure to bring the protests to an end, as economic losses mount.
'Political solution'
BBC South East Asia correspondent Rachel Harvey says the government seems now to be adopting a two-pronged approach to bring this crisis to an end – promote a reconciliation plan and clear protesters from their fortified camp.
Mr Abhisit told parliament that he would "present a political solution or road-map" to end the crisis. RED-SHIRT PROTEST
14 Mar: Red-shirts converge on Bangkok, hold first big rally, occupy government district
16 Mar: Protesters splash their own blood at Government House
30 Mar: A round of talks with the government ends in deadlock
3 Apr: Red-shirts occupy Bangkok shopping district
7 Apr: PM Abhisit orders state of emergency
10 Apr: Troops try to clear protesters; 25 people are killed and hundreds injured
22 Apr: Grenade blasts kill one and injure 85 near protest hub; each side blames the other
28 Apr: Policeman shot in clashes in northern Bangkok
"To find a political situation, we have to listen [to everybody], not only to the government, politicians, protesters or a group of people who opposed the protests," he said.
He gave no more details of the plan, but our correspondent says speculation is growing that he may offer a compromise on the timetable for fresh elections and set up a committee to review the current constitution.
The prime minister also said that he was planning mobile telephone text messages to tell protesters to leave the area they had occupied in Bangkok.
He told journalists at the weekend that the government was "in the process of sealing off and cutting off support before we actually move in" to the protesters' camp.
The red-shirts occupy a swathe of the capital, from the shopping district stretching south to the business district.
An attempt by the government to clear one area of protesters on 10 April left 25 people dead and hundreds injured.
On Sunday, a new budget allocation for the police was approved, amid allegations that police sympathies for the red-shirts had prevented their whole-hearted participation in actions against the protesters.
On Monday the red-shirts remained in their fortified camp. Their leadership had spent the weekend trying to recover from their raiding of Chulalongkorn Hospital – an incident which cost them public support.
On Sunday, the protesters withdrew their barricade near the hospital to allow it to operate freely.
One red-shirt leader, Dr Weng Tojirakan, led abject apologies for the behaviour of a small group of red-shirts who had invaded the hospital grounds in search of government soldiers.