EFCC freezes Gov. Fayose's account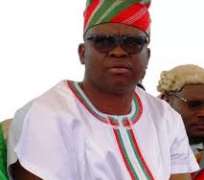 The Ekiti State Governor, Ayo Fayose,  alleged Monday that the Economic and Financial Crimes Commission has frozen his personal account with Zenith Bank Plc.
The government of President Muhammadu Buhari has been investigating the governorship election that brought Fayose to office in Ekiti on allegations that the military helped the governor to win the election.
The administration last week fired about 38 officers of the military who allegedly participated in perpetrating the alleged electoral fraud during the election.
The case of the Ekiti governor is made more interesting by the fact that he has been the most ardent critic of President Buhari's administration since inception a little over a year ago.
The governor's case as one of those that spark accusations of vendetta against the Buhari administration.
Many a Nigerian believes that the fact that Fayose led his Peoples Democratic Party to victory in all of the subsequent elections held in the state after the controversial governorship poll is an indication that he clearly won the election irrespective of whatever allegations being slammed on him by the Federal Government officials.
Fayose, who disclosed the account freeze in Ado-Ekiti, the Ekiti State capital, said that he arrived at that conclusion following his inability to operate the account when he visited the bank personally.
He told newsmen that officials of the Bank told him that an embargo has been placed on his account.
Fayose had been having a running battle with the EFCC over the funding of his governorship campaign in 2014.
There had been accusations that the campaign was funded with funds from the Office of the National Security Adviser.
Fayose had denied this, saying his campaign funds were generated from the ordinary people who wanted him in power.
When contacted, the spokesman of the EFCC, Wilson Uwujaren, said he was not aware of the accusation levelled against the Commission by Fayose.