CHINESE CITY'S BID TO REVIVE GLORY OF IMPERIAL PAST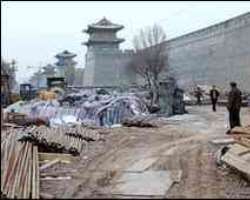 Industrialisation has scarred the city of Datong: like many others in China, it is a jumble of factories, roads and office blocks.
But the polluted, industrial city in northern China – known for its coal mines and its manufacturing plants – was once an important metropolis.
For a brief period 1,500 years ago it even served as an imperial capital.
Local officials are now trying to recapture some of that glory by rebuilding Datong's 14th Century city wall.
Towns, cities and villages across China have launched similar schemes in a bid to re-brand themselves and attract tourists.
But there is a deeper reason why Datong and others are revisiting history: in China there is a renewed interest in the past.
Change of image
Craftsmen are putting the finishing touches to the eastern part of Datong's square city wall.
Workers have so far restored only one side of the city wall
This new section stretches for about 2km (1.2 miles) with watchtowers placed every 200m or so.
Workers are using modern equipment and modern materials: the old wall is simply being encased in the new one.
Datong's city government is also rebuilding temples, restoring old shop fronts and cleaning up the streets in a project that aims to be finished by 2012.
Tourism expert Wei Xiaoan said the city was not the only one in China looking to freshen up its industrial image.
"In the past mayors wanted big buildings, big roads and big squares. They thought this was the only way to show a city's development," said Mr Wei, who has written a book about the restoration of historic sites.
But he added that many local leaders now wanted to emphasise a city's uniqueness – and that sometimes meant sprucing up the past.
'Happy to relocate'
This kind of work does not come without inconvenience. In Datong hundreds of people are being forced to move to make way for the wall restoration.
Some do not want to go, but many say they are happy to relocate.
The word "demolish" is painted on many Datong buildings
Unemployed Hao Feng is one of them. His family's home has already been demolished, and he has not yet been allocated another one, but he is glad the city is getting a makeover.
"This project is good for ordinary people," said Mr Hao, who spends his days sweeping up at his wife's hairdressing business.
"Right now, the streets are dirty and disorganised. But after the re-building, the rubbish will be cleared up."
But China has not always been so comfortable with its past.
In 1966, Mao Zedong launched his Cultural Revolution, a chaotic political campaign in which he hoped to reshape the thinking of ordinary Chinese people.
At mass rallies in Beijing's Tiananmen Square he urged his young Red Guards to smash the country's feudal past.
He urged them to destroy the "four olds" – old thinking, old culture, old customs and old habits. That meant many important historic sites and valuable antiques were lost forever.
Comfortable with past
Historian Zhang Lifan knows from personal experience the devastation caused by the Red Guards.
His father had been collecting porcelain, calligraphy and antiques ever since he had been invited to join the new communist government in 1949.
But in the Cultural Revolution, that made him a target.
The un-restored sections of the wall look very different to the new parts
Mr Zhang said the Red Guards came and took away all his father's portable antiques. They then moved into the family's traditional courtyard house, which was crammed with Ming and Qing dynasty furniture.
"The house used to have heating for the winter, but there wasn't any when the Red Guards were there," said Mr Zhang.
"So they tore up the flooring and burnt it. Then they pulled apart the furniture and used that for firewood."
But China has moved on since the Cultural Revolution ended in 1976. It is now richer, stronger and more confident.
It is also more comfortable with its past – and is now actively celebrating it.
Beijing, for example, has set up hundreds of institutes across the world over the last few years to promote Chinese language and culture.
These Confucius institutes are named after China's most famous philosopher, a man whose ideas came under constant attack in the Cultural Revolution.
This renewed pride in the past is why Datong, and other places, are now keen to remember a time when China really was the greatest nation on earth.