NORTH KOREA'S KIM 'VISITS CHINA'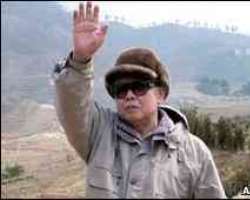 Kim Jong-il is not thought to have visited China for four years
North Korean leader Kim Jong-il may be making a rare visit to China, reports from China and South Korea suggest.
His personal train was said to have crossed into China at the border city of Dandong early on Monday, reportedly bound for the port city of Dalian.
The South Korean government said it could not confirm the reports – but there have been rumours of such a visit for several weeks.
It would be his first visit to China in over four years.
China is North Korea's main trading partner and the country perceived to have the most influence on the communist state.
The possible visit comes amid growing international concern over North Korea.
It has refused to return to six-party talks aimed at ending its nuclear ambitions. Tensions are also high with South Korea, after the as-yet unexplained sinking of one of its warships last month.
'Special train'
The train thought to be carrying Kim Jong-il arrived in Dandong early on Monday, South Korea's Yonhap news agency said, citing an unidentified government official.
"We have confirmed the arrival of a special train at Dandong, and we believe it is highly likely that Chairman Kim is on board," the official said.
About 200 Chinese police officers guarded the station and blocked surrounding roads ahead of the train's arrival.
Yonhap said that the 17-carriage train was bound for Dalian, citing another official in Beijing.
There has been speculation for weeks that a visit by Mr Kim was being planned.
He habitually travels by train and his visits are generally not confirmed until he has returned to North Korea.
Analysts suggest that he could be seeking economic aid from Beijing in the wake of a disastrous currency reform last year that worsened inflation.
China could urge North Korea to return to six-party disarmament talks, which have been stalled for a year.
But South Korea has said that the talks could not restart if evidence emerges that North Korea sank the Cheonan warship.
It went down on 26 March near the disputed inter-Korean maritime border, after an unexplained explosion. Forty-six South Korean sailors were killed.