ANC'S YOUTH LEADER FACES HEARING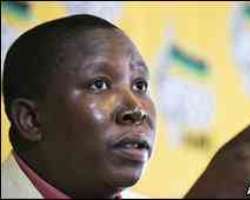 Julius Malema's behaviour has divided the ANC
The leader of the youth wing of South Africa's African National Congress is due to face a disciplinary hearing into his public behaviour.
Julius Malema has been accused of stoking racial tensions by singing an apartheid-era song about white farmers.
He has also publicly backed President Robert Mugabe, jeopardising South Africa's role as mediator in Zimbabwe.
Mr Malema, 29, is known for his acerbic insults but this is the time he has faced disciplinary action.
He was also involved in an altercation with a BBC journalist in April.
A panel of senior figures from the ruling ANC party is to pass judgement on his conduct.
'Power-struggle'
A disciplinary hearing against one member of the ruling party would not normally attract international attention, but it is the fact that Mr Malema's support was critical in helping secure Jacob Zuma the presidency that has cast it into the spotlight, says the BBC's Karen Allen in Johannesburg. MALEMA IN QUOTES
On Jacob Zuma
We are prepared to take up arms and kill for Zuma, we are prepared to die for Zuma
On opposition Democratic Alliance's youth wing
I only debate with serious political youth formations, not a group of the racist Helen Zille's garden boys
On Education Minister Naledi Pandor
Let the minister use that fake accent to address our problems and not behave like a spoilt minister
On Communist Party official Jeremy Cronin
We do not need the permission of white political messiahs to think
The charges against Mr Malema are expected to include bringing the ANC into disrepute, our correspondent adds.
The behaviour of one of the ANC's most colourful characters – in particular his support for Mr Mugabe – has divided the ANC and forced President Zuma to make a public apology on national TV, our correspondent says.
Mr Malema denied charges that singing the song Shoot the Boer contributed to the killing of white supremacist Eugene Terreblanche in April.
In March, Mr Malema was found guilty of hate speech for suggesting that a woman who had accused President Zuma of rape may have had a "nice time".
The president was acquitted of the charges in 2006.
Commentators say debate over whether the hearing should go ahead is a foretaste of what is expected to be a bitter power-struggle for the leadership of the ANC in 2012.