Huge fraud uncovered at the Manitoba Hydro plant, expats earn N75.1m at N395/dollar since 2012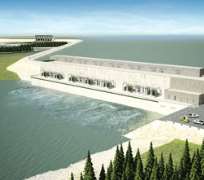 The House of Representatives has directed  its Committees on Power and Public Procurement to investigate alleged corrupt practices being perpetrated by Manitoba Hydro International Nigeria Limited in the country.
Rep. Jonathan Gaza (PDP-Nasarawa), in a motion on the floor on Thursday,  said the Federal Government had entered into a management contract with the company which effectively altered the character of the contract in certain respect.
According to Gaza, while  the contract included emoluments for 15 expatriates  the company records show that only eight expatriates working at the Transmission Company of Nigeria.
The lawmaker alleged that  the Managing Director of TCN drew a monthly salary N35.5 million, while other expatriates and the Managing Director of ISO, another firm managed by Manitoba, earned monthly incomes of N20.5 million and N19.10 million respectively.
Gaza made more shocking revelation, saying that the management company  had been using the exchange rate of N395 to a dollar since 2012,  a rate that the Nigerian currency had never fallen to both in  the official and parallel market rates.
He said that the official exchange rate of naira to dollar four years was about N160 and it is currently N199.
He said as a result of the unlawful exchange rate being used by Manitoba in the last 13 quarters, TCN had fraudulently and illegally lost N3.77 billion to expatriate workers' emolument.
He said, "In April, 2016, the management company unlawfully re-validated a 2010 contract worth N1,900,000,000 and awarded it to ABB India without due process, in flagrant violation of the Public Procurement Act, 2007.
"It is disturbing that Manitoba has not met its key performance indicators under the management contract and has clearly failed to justify the humongous sum of money it has drawn in expatriate emolument.
"It is deeply worrisome by the grave national security implications of a situation where foreigners are signatories to and in charge of the management of a sovereign trust fund of Nigeria – the market operations."
The House unanimously adopted the motion and mandated the committees to investigate the issue and report back in three weeks.