IRAQ ELECTION: BAGHDAD VOTE RECOUNT UNDER WAY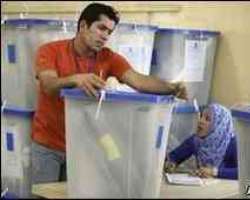 Election officials say the recount could take weeks
A manual recount of some of the ballots cast in Baghdad in Iraq's March election has begun in the capital.
The incumbent Prime Minister Nouri Maliki called for the recount in the province, saying the electronic system of counting was flawed.
The election was narrowly won by Mr Maliki's rival Iyad Allawi and his Iraqiyya bloc, but neither got a big enough majority to form a government.
The recount affects 68 seats and could materially change the result.
Election officials will recount two million votes in a process that could take weeks.
Delays
Mr Maliki won the vote in Baghdad, taking 26 seats to Mr Allawi's 24, but it is possible that the recount will give him a wider winning margin in the capital and overturn the national result.
Mr Allawi's Iraqiyya bloc have a two-seat lead on the State of Law coalition led by Mr Maliki in the 325-seat parliament.
The recount has further delayed the formation of a coalition government.
There have been several suicide car bombings in recent weeks which have killed scores of people.
Fears have been expressed that a prolonged period of political turmoil might leave a vacuum that the insurgents could exploit as the Americans reduce their presence, correspondents say.
The Obama administration has said it aims to withdraw nearly all of its troops by next year.