MUMBAI ATTACKS TRIAL VERDICT DUE FOR AJMAL AMIR QASAB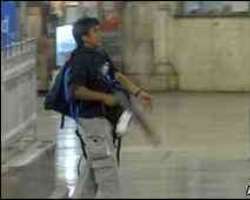 Mohammed Ajmal Amir Qasab opened fire on commuters, it is alleged
An Indian court is set to deliver its verdict on the man alleged to be the sole surviving gunman of the 2008 Mumbai (Bombay) attacks.
Pakistani national Mohammad Ajmal Amir Qasab, 22, faces 86 charges, including waging war on India, murder and possessing explosives.
The November attacks left 174 people dead, including nine gunmen and soured ties between India and Pakistan.
India blames Pakistan-based militants Lashkar-e-Taiba for the attacks.
After initial denials, Pakistan acknowledged that the attacks had been partially planned on its territory and that Mr Qasab was one of its citizens.
Last last year, Pakistan charged seven people in connection with the attacks, including the suspected mastermind Zaki-ur-Rehman Lakhvi, who is alleged to head Lashkar-e-Taiba.
The judge will also give his verdict on two Indian men – Fahim Ansari and Sabahuddin Ahmed – who are accused of helping the gunmen plan the attacks.
There is massive security and media presence outside the court in Mumbai and one side of the road outside has been closed to traffic, the BBC's Prachi Pinglay in Mumbai says.
Mr Qasab's 271-day trial was conducted in a specially-made court on the jail premises in Mumbai where he is being held for security reasons. MAIN QASAB CHARGES
Waging war on India
Murder
Conspiracy to murder
Destabilising the government
Kidnap
Robbery
Smuggling and possessing illegal arms and explosives
Profile: Mumbai suspect
Excerpts from confession
In all, 610 witnesses testified during the case, which began last March.
The prosecution are seeking the death penalty for Mr Qasab.
Special public prosecutor Ujjwal Nikam said that the prosecution wanted to also prove that Mr Qasab was "part of a larger conspiracy to create terror and destabilise the economy – planned and executed meticulously".
"We have a water-tight case. The evidence comprises eyewitness accounts, CCTV footage, articles collected from the boat [in which the gunmen arrived from Karachi] and more," he told the BBC.
'Hostile atmosphere'
Over the past 14 months, the trial has witnessed a number of twists and turns.
Mr Qasab originally denied the charges against him but last July, in a dramatic outburst in court, he admitted his role and asked to be hanged.
His plea was not accepted and the trial continued.
TRIAL HIGHLIGHTS
November 2008: Mr Qasab arrested during attacks
February 2009: 11,000-page chargesheet filed against Mr Qasab; Mr Qasab confesses
April 2009: Mr Qasab retracts confession
May 2009: Mr Qasab pleads not guilty
July 2009: Mr Qasab confesses again
In November, the main lawyer representing Mr Qasab – who was arrested on the first day of the attacks – was removed from the case after the judge said he was delaying proceedings.
Abbas Kazmi has recently filed a complaint against his removal in the Mumbai high court.
"The case had international ramifications because some of the victims were foreigners. However, for me, dealing with the hostile atmosphere was a bigger challenge. There were threats and my own community criticised me," Mr Kazmi said.
After initial denials, Pakistan acknowledged that Mr Qasab was one of its citizens and that the attacks had been partially planned on its territory.