militants threaten to blow up foreign oil vessels give 96 day ultimatum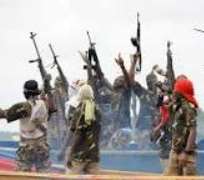 An emerging militant group in the Niger Delta, Niger Delta Vision, has
threatened to blow-up transnational vessels ladened with petroleum products
and crude oil in the nation's territory ninety six hours.
Spokesman of the group locomotive Osia who gave the warning in a statement,
stated that the threat was due to the inability of the federal government to
allocate oil fields to indigenes of the Niger Delta area.
Osia lamented that since the exploration of oil in Nigeria sixty years ago, Niger
Deltans from whose land oil is produced directly in the lifting of the product
while people from the northern and western parts of the country have been
holding sway in the oil business.
He said his group, the Niger Delta Vision, has decided to strike at the expiration
of the deadline unless the federal government immediately revokes all oil
licences and allow the people of the area to be owners of their natural resources.
While commending the Niger Delta Avengers, the Red Egbesu, the Isoko
Liberation Movement and other militant groups in the deltaic area for their
efforts and sacrifices, the group assured of ensuring that the fight for the soul of
the oil producing communities, would be un-abated .
"The economic colonization of the people of the Niger Delta by the federal
government over the years, must now come to an end as God who gave us the
resource would give us the strength to overcome our aggressive and faceless
political leaders, the group declared.
Meanwhile, the Niger Delta Vision has strongly condemned an elder of the
Niger Delta, Michael Johnny who warned Government Ekpemupolo popularly
known as Tompolo not to use the name of Niger Delta for his personal gains".
The group described elder Johnny as a visionless man who does not see the
economic oppression of the people of the region as a crime and merely looking
for cheap publicity.
Signed:
cg"
Prophet Locomotive Osia
Spokesman