50 killed, 53 hospitalized in suspected terror attack at gay nightclub in Orlando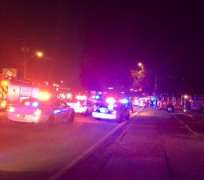 Police direct relatives away from the scene of a mass shooting at a gay nightclub in Orlando, Fla., early Sunday. (AP Photo/Phelan M. Ebenhack)
---
Fifty people were killed and more than 50 others were injured after a gunman opened fire at a gay nightclub in Orlando, Fla. early Sunday, turning a lively dance club into a hostage situation, police said.
Police said the shooter, who was killed in a shoot out with police, came "organized and well prepared" as he opened fire with an assault rifle. He also had a hand gun and another "suspicious device." Authorities are calling it an act of domestic terrorism, but also said the attacker may have had ties to Jihadist terror groups.
The suspected gunman was identified by relatives and law enforcement officials as Omar Mateen, a 29-year-old from Fort Pierce, Fla., according to The Washington Post.
The violence erupted about 1 a.m. Dallas time, when police said the gunman exchanged fire with an officer working at Pulse Orlando, a gay bar and dance club, then went back inside to take hostages. Although the club was preparing to close, more than 300 people were estimated to still be inside.
Three hours later, authorities sent in a SWAT team to rescue the hostages. Nine officers charged in to confront the gunman after authorities heard by cellphone from victims inside the club who said they were wounded and in danger.
One officer suffered an eye injury, and officials credited his helmet for saving his life.
Witnesses described a bloody scene in and around the downtown club, with dozens of shots fired.
One witness told the Orlando Sentinel that the shooting lasted "the duration of an entire song."
People who were dancing or at the bar tried to take cover by dropping to the floor. One person who said he had been at the club when the shooting began managed to escape because he was near an exit.
Another clubgoer, Jon Alamo, said he was at the back of one of the club's rooms when the gunman came in through the front.
"I heard 20, 40, 50 shots," he said. "The music stopped."
Mina Justice was outside the club trying to contact her 30-year-old son, who texted her when the shooting happened and asked her to call police. He told her he ran into a bathroom with other club patrons to hide. He then texted her: "He's coming."
"The next text said: 'He has us, and he's in here with us,' " she said. "That was the last conversation."
After authorities took out the shooter, FBI agent Ron Hopper said there was no further threat to the Orlando area. An explosion that could be heard blocks away was caused by a device intended to distract the shooter, authorities said.
When asked whether the gunman had a connection to radical Islamic terrorism, Hopper said authorities "have suggestions that individual has leanings towards that." But he added: "Right now we can't say definitively, so we're still running everything around"
Dozens of emergency vehicles responded to the nightclub. As officers armed with assault rifles cordoned off numerous blocks nearby, an armored vehicle was used to help some of the people escape the area.
WESH reporter Stewart Moore said he saw at least seven emergency vehicles carrying victims. A witness said the injured were also being loaded into the backs of pickups.
The New York Daily News quoted another witness who said medical personnel were fitting several people into one ambulance while more of the wounded were lying in a parking lot near the club.
Witnesses said authorities seemed to be searching for someone in the area around the club after there were reports that there was a second shooter involved in the attack. But authorities said those accounts were unfounded.
Video of emergency crews helping victims was posted on social media as other victims were carried or were walking to nearby Orlando Regional Medical Center.
By 6 a.m. Dallas time, the families of people who had been at the club were ushered into the medical center — which had been placed on lockdown during the crisis — to learn the fate of their relatives.
Soon after police reported that the gunman had been found dead, the club posted online: "As soon as we have any information we will update everyone. Please keep everyone in your prayers as we work through this tragic event. Thank you for your thoughts and love."
Staff Writer Sarah Mervosh of The Dallas Morning News and The Associated Press contributed to this report.