6th Ordinary Summit of ICGLR Heads of State and Government to take place in Luanda, Angola on 14th June, 2016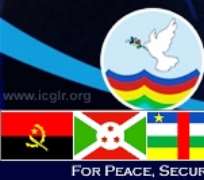 Luanda, Angola 10th June, 2016: At the invitation of His Excellency José Eduardo dos
Santos, President of the Republic of Angola and ICGLR Chairman, the 6th Ordinary
Summit of ICGLR Heads of State and Government will take place in Luanda, Angola on
14th June, 2016.
The Summit themed "Accelerating the effective implementation of the Pact and its
Protocols for a more democratic and stable Great Lakes Region" will be preceded by
the meeting of ICGLR Chiefs of Defence Forces on 10th June, 2016 followed by meeting of
ICGLR Ministers of Defence on 11th June, 2016 and ICGLR Ministers of Foreign Affairs on
12th June, 2016.
Among others, the Ministers of Defence will consider the report of the meeting of Chiefs of
Defence Forces who will receive the report of the ICGLR Expanded Joint Verification
Mechanism (EJVM); Report of the Military Experts Committee which conducted a military's
needs Assessment in the Central African Republic (CAR) on 10th to 15th March, 2016 and
the report from the Guarantors comprising the United Nations (UN), the African Union
(AU), the International Conference on the Great Lakes Region (ICGLR), and the Southern
African Development Community (SADC) on the implementation of the Peace, Security
and Cooperation (PSC) Framework for the DRC and the Region. The Ministers will also
receive briefing on the Security and humanitarian Situation in Democratic Republic of
Congo (DRC), Centre African Republic, Republic of Burundi, Republic of South Sudan and
Republic of Sudan.
On the other hand the Ministers of Foreign Affairs will adopt the report of the Regional
Inter-Ministerial Committee (RIMC) meeting held on 11th February 2016 in Luanda,
Angola; receive a presentation on the Report of Ministers of Justice and the updates on
the implementation of the Regional Initiative on Natural Resources (RINR). The Ministers
will also receive presentation of a report from the Special Envoy of the United Nations
Secretary General to the Great Lakes Region on the Peace, Security and Cooperation
Framework Ministerial meeting held in Addis Ababa, January, 2016 and the Private Sector
Investment Conference held in Kinshasa, Democratic Republic of Congo in February,
2016. The Ministers will consider and recommend to the Summit the candidates for the
position of ICGLR Executive Secretary following the end of tenure of the incumbent.
The last Ordinary Summit was held on 15th January, 2014 in Luanda, Angola.