'WHY I SLAUGHTERED MY MUM'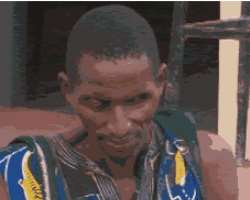 •Haruna Popoola
Residents of Osun State are still at a loss over the events that led to the murder of a 75-year old woman by her son at Oore, a community near Okuku in Odo Otin Local Government area of Osun State.
Haruna Popoola, 45, recently robbed the sleepy town of its serenity when he reportedly slaughtered his mother, Muniratu. He's currently being remanded at the Ilesa Prisons.
But during a chance encounter with the suspected murderer, he said even he could still not fathom why he decided to slaughter his own mother.
Days after the gruesome murder, the people of the agrarian town are still mourning the demise of a woman who many described as a 'true mother'.
When Daily Sun recently called at Oore, gloom and grief pervaded the town. Though many people declined comments, those who spoke with Daily Sun were in utter confusion, wondering how a one-eyed, one-legged man was able to carry out such a despicable act. This reporter learnt that Haruna had been suffering bouts of mental imbalance of late after suffering a series of misfortunes.
A member of the Popoola family at Eesa compound in the town said: 'I can't say if he is normal or not.When he was younger, he travelled to Ilorin in search of greener pastures. We thought he was doing well until he returned to Oore and started farming. He has been battling with some challenges. His problem started many years ago when he went to harvest palm kernels and some particles entered one of his eyes. All efforts to get it out failed. The situation degenerated and he lost the eye.
'Few years after he lost his eye, Haruna went to his farm one day and had a leg injury. The wound festered and the doctor decided to cut the leg to save the man's life. His mother stood by him in all these travails. But he became depressed and seemed to have lost his passion for hard work. He became unpredictable and uncontrollable. For some times now, he had been selling beer and other liquor at his grandfather's house. He has been exhibiting some wild behaviour occasionally.'
It was during one of such fits that was reportedly brought to the notice of his mother that fateful evening. The mother of four was living in a storey building built by Haruna's late father. On the fateful day, some people noticed Aaruna's strange behaviour and went to inform her. She hurriedly left her Ilie Road residence for Eesa compound.
'She succeeded in calming him down, but some of the people there feared that Haruna might cause more trouble in the night, and so she decided to pass the night with him. Haruna's wife had divorced him about three years ago after having five children for him. So he lives alone. It was in the morning that it was discovered that he had killed his mother. And this was the same woman that had been taking good care of him for years. She washed his clothes and took care of his children. Haruna is jobless and he is not even useful to himself due to his condition and depression.'
Oloore of Oore, Oba Kareem Oyewole told Daily Sun that some people cried to the palace on discovering the evil deed. 'After sending some people to confirm the incident, I invited the police and he was arrested. Only Haruna and God could say what really happened. People should be careful of their utterances. We are praying against such occurrence in this town.'
At the State's Criminal Investigation Department (SCID), Haruna gave an insight in to what really happened before dawn on the fateful day. He was feeble and cut a pitiable picture. One would not believe that he had enough strength in him to snuff life out of even a chicken. In a faint voice, he told our reporter: 'That night, I saw a goat in my dream.
I thought the goat was with me on my bed. I didn't know how the knife got to my hand. I didn't know how it happened. I was later told that I had killed my mother. How could I have killed my beloved mother who had been taking good care of me and my siblings? I can't understand this,' he blabbed. The state's Commissioner of Police, Mr. Solomon Olusegun commended people of the town for alerting the police promptly.
The suspect has since been arraigned at an Osogbo Magistrate Court presided over by Magistrate Abiodun Ajala. According to the Police Prosecutor, Joshua Oladoye, Aaruna was charged with murdering his mother on April 8 at Oore. The magistrate ordered that he be remanded at Ilesa Prison till June 16 when the case would be heard.