OJUKWU PLEDGES SUPPORT OF IGBOS FOR IBB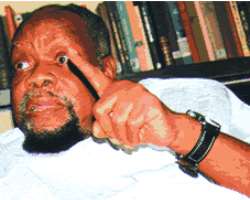 Former Biafran warlord, Dim Chukwuemeku Odumegwu-Ojukwu has pledged support of Igbo people for the presidential aspiration of former military president, General Ibrahim Badamasi Babangida and gave him the name Okechukwu.
The Ikemba of Nnewi gave this pledge when a group of IBB campaigners under the aegis of Campaign Network for IBB 2011, South East Zone, paid him a courtesy visit at the weekend.
'Tell your principal that Igbos are for him. He has my support and by extension he has the support of the whole Igbo people both at home and in the Diaspora. He is my friend and I am stoutly behind him,' Ojukwu said.
He used the occasion to rechristen Babangida as Okechukwu. 'He is now Ibrahim Badamasi Okechukwu Babangida. That is his new name. I wish him success.' Earlier, the leader of the group, Chief Tony Emeka Ani, said the group had come to solicit the support of Ojukwu for the presidential aspiration of IBB, adding that the group had just been inaugurated in the South East.
On the entourage of Ani was Mr. Yemi George, leader of the group in Europe, who came down from Germany to grace the occasion.