SPEAK OUT ON GNU, PPA TELLS JONATHAN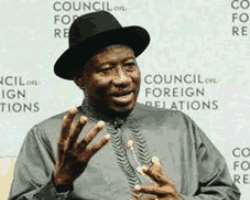 In a press statement signed by the PPA National Publicity Secretary, Mr Ben Onyechere and made available to Daily Sun in Lagos yesteday, the party said it has become necessary for it to seek clarifications regarding the GNU in view of recent political developments in the country.
'In view of evolving circumstances in our polity since the inception of the administration of the Acting President, it has become necessary to inquire about the status of the Government of National Unity which was under the chairmanship of the Acting President. This became necessary because tongues were already wagging as to what had become of the once-cherished project of the presidency. At the formation of the GNU, a lot of consultative meetings were held up till the time President Yar'Adua took ill. There were serious interactions, one of which was the presence of GNU members in government as ministers.
The release stated further: 'PPA as an independent political party which came third in 2007 general elections does not derive legitimacy from the GNU which itself was an idea of the presidency. As such we demand in categorical terms, the status of that coalition which served to stabilize the polity.
If Goodluck Jonathan felt there was no longer need of that arrangement, as a gentleman which we think he is; and chairman of GNU, he should not hesitate to tell us,' it stated. The party said it was aware that some people were already mounting pressure on Jonathan to do away with the GNU. It stated that although it was aware that the Acting President had so far not bowed to such pressures, it is imperative for him to make his stance on the issue public.
However, the PPA said it would continue to champion issues that affect the welfare of Nigerians whether the GNU subsists or not. 'As a progressive party, the PPA will remain undaunted in highlighting issues that border on the welfare of Nigerians. Whether we are in or out of GNU, we only demand to be accorded the same measure of respect going by our contributions which from all indications were cherished by the Presidency.'