Niger Delta Is Not In Syria Or Iraq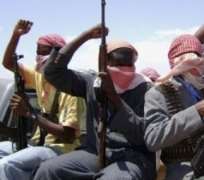 Niger Delta Avengers are bombing their own lives and that of next generations out of existence. If it was a foreign power, oil companies or Nigerian Army that is destroying this environment, we would be labeling the mute response from international communities racist. Even in Iraq and Syria; Falluja and Aleppo do get world attention. Juxtaposing the pitiful picture of Maroko in Lagos with that of beautiful Port Harcourt and Calabar will not raise empathy for Niger Delta.
Most people remembered how Boko Haram started as an offshoot of past radical religions that have devastated peaceful co-existence. Yet, we had men in power like Ciroma and Co. boasting they were going to make the country ungovernable if Jonathan won. They actually did. Little did these men of timber and caliber realized or had perceptive brains that the devil they unleashed was coming back to haunt them, not limited to churches, Southerners and Igbo in particular.
Now, you would think that these Avengers and their predecessors would learn from Boko Haram. No, they think destroying themselves as Boko Haram did in the North was worth the price. After all, victims are the poor and innocent that cannot defend themselves. Agitators will collect the billions as a result of blackmail, spilled blood, and polluted environment. What do they do with the money more than parade themselves as globe trotters and invest outside.
The oil companies gave a vigorous defense when they were sued for oil spills in the Niger Delta that there were overwhelming contributory negligence and actual deliberated indifference by the Niger Delta militias polluting and destroying their own environment. The cost of doing business in Niger Delta has driven good businesses and jobs to neighboring cities and countries to the detriment of hard working men and women that depended of their land for a living.
International communities have enough to deal with in terms of terrorists or refugees invading their borders. It is not their obligation to tell us to stop destroying one another unless they have strategic interest. We are so mean not only to one another but in our own homes. We are willing to do anything in the interest of a few no matter how many people suffered. If it is really about separation campaign for solutions to elect you as separatists from your neck of the hood.
This is blackmail. Every part of the country had an opportunity to either elect a civilian or forced on us a military leader. In each of those cases, those leaders have not gone ahead and bring into reality their regional and separation agenda. What we've had are Unitary Government, Any Government In Power, You Chop And I Chop Government and Its Our Money We Can Steal It Anyhow. As soon as they are out of favors or out of power, blackmailers and agitations rise up.
Right now, we are all fed-up and the country can break into pieces if it can. Each time terrorists raises their ugly heads, we see hypocrisy within the same areas, within the same ethnic group and families. Reasonable people within started wondering: why my brothers and sisters are killing my brothers and sisters. In laws that have lived peacefully for ages become enemies and local government areas started turning against one another. Others are blackmailed to join.
Niger Delta Avengers said they do not need Biafra for their cause, just as Edo, Urhobo and Itsekiri are not even Ijaw. The Ijaw were compensated with Presidency though they are minority compared to Edo, have turned into anything but appeased. They are more agitated today than they were before. As Africans, like to sit tight as President for Life! If each of us got what we wanted by raising hell, better be sure more hells would break out because it worked.
The irony is that we fight over ideologies that were bequeathed to us for our own destruction by colonial masters. We fight over democracy, capitalism, socialism, Christian as a preferred religion, Sharia as ideal legal system; though none of them are authentic African. It is easier to adapt to strangers' behaviors as salvation, than to ours. Eh, it is a global world! No matter how good we are at their game, we can never perfect it, nor would we be accepted as such.
Stop using Lagos, Calabar or Port Harcourt to prop up senseless destruction of culture and means of livelihood. Lagos is the only State that had withstood the arrogance of Abuja without dent to its economy. Even Looters have more effect. The economy of Lagos was built before it became part of Nigeria and will not crash after. In spite of the glamor of Lagos, original people of Lagos lament the deterioration of their city. They wish the old Lagos could come back.
Though there is validity that Abuja was built mostly on oil money, the original natives of Abuja are not happy with the urbanization that has swept their villages out to suburbs and turned them into long distance visitors to their villages. Successive Nigerian Government have made lofty promises which they found unacceptable. Indeed, the native of Abuja may have the last laugh if they eventually win in court or if Nigeria separates. Nobody can run with infrastructure.
Unlike Niger Delta, the people of Lagos and Abuja can absorb it and fight another day to claim their land. They are not bombing themselves. Niger Delta is being destroyed by militants for the next generations. We have militants all over, but those that destroy their land like the so called Avengers and massacre their people like Boko Haram are not many. We have to go far into Arabian land to witness such senseless destruction of land, properties and massacre of people.
These are the consequences of encouraging thugs, illiterate and vagabonds to lead those that played by the rules, went to colleges and respected their parents. While highly educated and knowledgeable sons and daughters of Niger Delta with brains are left broke and homeless; the militias only think on impulse with their feet. Many Deltans cannot even live close to their place of birth. They are like refugees all over the world.
Their leaders are worse. They stole foreign oil income as if they are buying another country in Europe and America. We blame Nigeria leaders for stealing Nigeria blind and decided to make way for Nigeria Delta leaders at the helms of Nigeria's affairs. They were worse. They claimed it was their money and could waste it anyway they want, without accountability. If Nigerians stole oil income blind, Niger Delta leaders stole it dead, without fear or consequences!
Disclaimer:

"The views/contents expressed in this article are the sole responsibility of

Farouk Martins Aresa

and do not necessarily reflect those of The Nigerian Voice. The Nigerian Voice will not be responsible or liable for any inaccurate or incorrect statements contained in this article."
Articles by Farouk Martins Aresa