ZUMA URGES CITIZENS TO CELEBRATE SOUTH AFRICA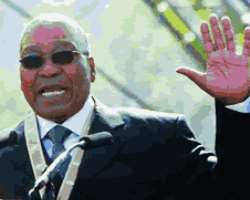 President Jacob Zuma used the Freedom Day festivities in Pretoria to urge South Africans to celebrate the 'rich tapestry of our culture' ahead of the 2010 FIFA World Cup.
The president was addressing some 20,000 people gathered at the Union Buildings to celebrate 16 years of apartheid-free South Africa.
'We are just 44 days away from hosting the 2010 FIFA World Cup. We have been offered a significant opportunity to share our humanity, heritage and the beauty of this country with the world.
'We will display the rich tapestry of our culture in dance and music to show that this is a truly African World Cup. 'We do not spend enough time celebrating our country, and this is an opportunity to show off. South Africa is rich in its cultural diversity. We have produced music that has earned international accolades,' Zuma said.
President Zuma reminded the crowd that South Africa boasted eight world heritage sites.
'We must familiarize ourselves with them, so that we can all become ambassadors and effective tour guides during the World Cup,' he said. The sites include: iSimangaliso Wetland Park, Robben Island, Cradle of Humankind, and uKhahlamba Drakensberg Park in KwaZulu Natal.
The President also urged South Africans to get behind the national team. 'Let us make the 2010 World Cup a memorable event. Let us rally behind Bafana Bafana. Let us celebrate our national symbols; and let us show the world that we are one nation, united in our colourful diversity,' said the President.