President Buhari Scores Another First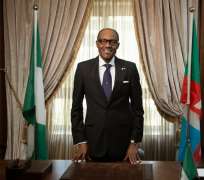 Again in line with the mantra of change, President Muhammadu Buhari has scored another first in our Republic of liars, apology to Prof. Wole Soyinka by re-emphasizing a saying in our land, that a leopard cannot change its spot by the honest publication by his spokesperson of his travel to UK for a ten day rest and visit to a ENT specialist for a persistent ear infection.
If there are some qualities about President Muhammadu Buhari that has stood him out as a rare gift to mankind since his journey into our public life and which has earned him accolades and admiration both locally and internationally, it is his character of honesty, Spartan lifestyle and dignity of the human person which is in very short supply in our land, but which endeared him to Nigerians who trooped out to the polls on March 28th, 2015 to unanimously elect him as President in the mould of the Biblical Moses to navigate our country away from the brink that she was tottering due to the mismanagement, lawlessness and impunity of an administration of stealing is not corruption.
President Buhari by the revealing of the reasons for his medical trip has demonstrated his honesty policy as a person which stands him out and is a lesson to us all that persons in public office no matter how highly placed are also humans who can suffer from health challenges like the ordinary man on the street, so no big deal.
Mr. President, the Lord is your strength because by his stripes, you are healed.
As Mr. President scores another first of exemplifying truth in public conduct, we want to wish him God's healing, good health and pray that Allah grant him the health, strength, wisdom, and grace to lead the Nigerian people out of the woods in his God's ordained assignment as President of the Federal Republic of Nigeria.
Nelson Ekujumi
OBSERVATIONS ON THE COMMEMORATION OF THE JUNE 12, 2016 ANNIVERSARY CELEBRATIONS