Letter To Chief James Ibori; Oghara Now Slave In Okowa Government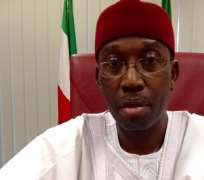 Sir, this is my second letter I wrote to you, after the one I wrote when you were in detention in Dubai, assuring you of our prayers for God to see you through in your political persecution travail championed by the former president, Goodluck Jonathan
I recalled in the said letter published both on print and online newspapers, Nigeria Pilot, Daily independent, The Nigerian Voice, The Urhobo Voice, Urhobo Vanguard etc; trying to know your candidate for the 2015 governorship election in the State.
I was told that the letter gets to you in person; few weeks later you address the good people of Ethiope West, Oghara to be precise via Skype, in the chat that fateful day, you appeal to the good people of Oghara people to vote en mass for Dr. Ifeanyi Okowa so as to hold brief for you in the State.
Your Excellency, I recalled that, you assured the people of Oghara that Okowa is from Oghara, by political birth; so we voted for him 100 percent.
Infact, Okowa has the highest votes count from Ethiope west, an indication that Oghara people listened to your appeal.
Your Excellency, upon the inauguration of Dr. Ifeanyi Okowa, as the governor of our dear State, there were speculations that, Chief Williams Makinde who is from Oghara was penciled for the SSG position, but Okowa in his wisdom, appointed Bar. Ovie Agas, who is also from Urhobo.
The appointment of Ovie Agas, as the Secretary to State Government, received accolades of "monkey work; monkey chop mantra" of the Okowa campaign, to me, my hope was rekindled that Okowa is out for business.
To further assured the people Ethiope west, Oghara in particular as thank you for a job well done during the election, he nominated and inaugurated Chief Willaims Makinde as the Managing Director, Delta State Oil Producing Areas Development Commission, DESOPADEC.
Your Excellency, it may interest you to know that, after assessing Okowa one year in office, there was no project sited in Oghara by Okowa or its agencies, I am aware that during his hosting by Delta Central PDP, he mentioned that he has awarded the dualization of Jesse road Ethiope west, but subtly said that the projects to be sited in Oghara in on the way.
Rejected positions are now being given to Oghara people as appointments, while some have been abandoned by Okowa which has culminated into defection.
The administration of Okowa has no Oghara man in the State executive Council; even in the PDP State executives was not also different. But Oghara has been said to be a political Mecca, then no Oghara man in the State Excos? Was that met to fool Oghara?
Your Excellency, what pain me most, as a full flag Oghara man, was the alleged plan by Okowa to conduct final burial for the Delta State University Teaching Hospital, initiated by your administration.
A follow up to that plan, Okowa appointed Dr. Nicholas Azinge, who was a consultant in the hospital as Health Commissioner, Oga, it is believed that Azinge is from Agbor, the same local government with Okowa.
He also appointed Dr. Chris Oghenechovwe as the board Chairman of the hospital, your Excellency, upon Oghenechovwen appointment, he promised to resuscitate the hospital from its moribund state, being plunge by Dr. Leslie Akporiaye.
But we as key observer; realized that Okowa is out to conduct a final funeral for the hospital, where Oghenechovwen now take the hospital to wherever he goes, living the hospital in shabby, starving the acting CMD of fund.
Recently, a friend of mine drew my attention to the dilapidated state of the hospital a visit to the hospital indicates that the hospital has been totally abandoned by the Okowa and his cohorts, busy planning on the best way to sink the hospital for life.
Your Excellency, the hospital is currently at the emergency ward begging for attention and survival, following the total withdrawal of the State government monthly subvention to augment the day to day running of the hospital.
The hitherto hustling and bustling experienced in the hospital was nowhere to be found occasioned by the total shut down of facilities in the institution.
My findings so far revealed that Ifeanyi Okowa has finally stop the N15 million, against the N40mllion subvention fund, an indication that Okowa has zero his mind while the hospital initiated your administration to sink, while he is busy constructing hospitals, roads, schools in his district. Is Okow Delta State governor or governor of Agbor?
As I was told of the Okowa resolved of not send the monthly subvention to the hospital so as to remove the oxygen being used by hospital in its emergency bed to survive, in the presence of Oghara people; and nothing is being done about to bring back the hospital to life.
I contacted some of my colleagues in other parts of the country where Teaching hospital is situated, but I was surprise that even as old as University Of Ibadan Teaching, Federal government still send monthly subvention to keep the hospital running; Lagos State University Teaching Hospital and University of Benin Teaching were not also in exception.
Your Excellency, as an indigene of Oghara and a good Samaritan to the hospital, I write this piece for your perusal and to urgently call Okowa to order in his resolved of making Oghara people and his establishments slaves in his administration; as the hospital is still too young to fund its self.
Up till this time of writing this letter, the hospital is in shabby, Consultants is currently on strike as Okowa has not paid them for five months.
Your Excellency, as I write this letter, there is serious cracks in Oghara PDP poltical family, as some aggrieved members has pitch tent with the opposition. Everybody is now leader in the area. What a pity while you were away!
Thanking you in anticipation that you give this piece the needed attention; as we are hopeful of your safe return soon; as my hope is rekindled of bringing all your political apostles who is aggrieved on board.
Kparobo Ehvwubare, is a journalist wrote from Oghara; could be reached on 07067546856 or [email protected]
Disclaimer:

"The views/contents expressed in this article are the sole responsibility of

Kparobo Ehvwubare

and do not necessarily reflect those of The Nigerian Voice. The Nigerian Voice will not be responsible or liable for any inaccurate or incorrect statements contained in this article."