Cancel Your Plans To Sponsor Protests Against Flag-Off Of UNEP Cleanup – APC Tells Gov. Wike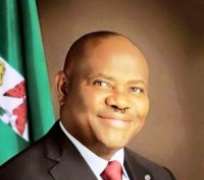 The Rivers State Chapter of All Progressives Congress [APC] said it has come to its attention that the Rivers State Governor, Chief Nyesom Wike has concluded plans to sponsor PDP members, tugs and hoodlums to protest and disrupt the visit of President Muhammadu Buhari to Rivers State to flag off the UNEP cleanup of Ogoniland on Thursday, 2nd June, 2016.
The APC in a statement signed by its spokesman, Senibo Chris Finebone and made available to NF-Reportssaid, "it has also come to our notice that the protesters will disguise as citizens who have been mobilised to give Mr. President a rousing welcome on his visit before they will turn on their protests with placards and dangerous weapons with the singular purpose of embarrassing Mr. President, Rt. Hon. Chibuike Rotimi Amaechi, Senator Magnus Abe, Dr. Dakuku Peterside and the All Progressives Congress, APC, amongst others."
"Indeed, the APC finds it curious that Gov. Nyesom Wike will claim to mobilise his party members to welcome President Buhari, the same person he has repeatedly spoken about derogatorily in the past. The only reason Gov. Wike would engage in his planned subterfuge can only be to score a cheap political point due to his desperation for political advantage in Ogoniland - something way out of his reach under a peaceful atmosphere" the statement explained.
The APC noted that it was solely political desperation that drove the governor to hurriedly flag-off the dualisation of Saakpenwa-Bori-Kono Road last week to deceive Nigerians that Wike cares about Ogoni people after sponsoring militants to kill them, adding that "the fraud behind the Saakpenwa-Bori-Kono Road has been uncovered as the governor deliberately refused to mention that the project is in phases. He also cunningly went silent on the number of kilometres of the road is covered in the phase 1 of the project he flagged off, just to deceive the people of Tai, Gokana, Khana, Opobo/Nkoro and Andoni LGAs."
The APC urged the governor not to push his luck too far as there will obviously be grave consequences if he insists on over-reaching himself along the line he has chosen as he will be held responsible for any breach of the law, order and further undermining of the fragile peace of the State at this time.
"But if the governor insists on sponsoring people to disrupt the flag-off with the purpose of embarrassing Mr. President and others, we wish him the best of luck" the statement concluded.