Democracy Day: Delivering The Promise, Walking The Talk; Where is Ekiti?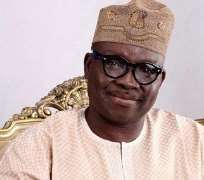 It's Democracy Day. Time to lick our wounds and reset the mistakes after reviewing our performing executives. It was about time to give knocks and kudos for a good or bad run in office.
We do this to our advantage or not. This time, away from the voodoo of concocted lies during electoral campaigns. This piece shall run through the month recycling the success and failures of our state executives. More of it, ironically would be attributed to what is obtainable before the people.
Afterall, is a whole good year in office for those who took power last year May 29, President Muhammadu Buhari for instance at the central, and other South West Governors except Ondo, Ekiti and Osun. No matter the moral perplexity of the economy, the deliberate empathy against conscience, this episode shall reel out heaps on state executives that has gone from words to deeds.
Our writing pad cannot go inkling on some returned Governors and those who sits there before the day, like Governor of Ondo, Ekiti and Osun.
One way or the other they have festered serious craft on their people and that shouldn't go unreviewed.
So my sailing boat paused this time in Ekiti, the land of honour.
In Ekiti, it appears the crunch of economic hardship Nigerians are weary about is not affecting the people. There is no rage or discontentment, rather seaming silence. The disappearance of Gov Fayose's marks on sand this time beg not to disagree with this. A close but deeper look at the Governor shows his body language is sapping up for aspiration than promises made. The PDP Governor is busy fighting his leaders for the sole of the party at the national level and Fayose attention is drifting towards that, maybe or not that fodder disservice.
When Fayose acted imprudent against the people that elected him into office through his flabbier-suckled the labour unions that threatened industrial showdown in the state through his "I don't care' statement, logic roll for that. He is damn right to have said that; who born monkey. That was in resemblance of desperate problems with desperate solutions as witnessed in the Fulani massacre killings.
If he defecates his panties on rostrum at the seal of power and blame FG for that/Fayemi; he is very efficacious. Nothing on earth best described the humility.
Aren't you enjoying the fancy charade he pulled through the lull of leading the state that prided itself knowledge without wisdom. Even the know in the circle 'elites' whose wings are always high flying has been broken.
Ideological organizations and organized individuals has been charmed by his gutted rhetorics. What a magical omnibus called Fayose.
I saw it. I felt it. I know he could be the eraser of the pain inflicted by Fayemi. I knew it from onset, Infact I knew this before he was voted into power by power itself.
The NANS, FESSU, Iyalojas, Artisans, Diplomatic Unions and organizations are all singing his praises like he is the best Governor the west ever produced on Facebook.
No one has ever matched his landmark achievement of public criticizing President Buhari; a tainting accolade that conspires the position he occupies. Have you seen his new blocks of classrooms? The paraded asphalted roads in Ilejemeje, Efon, Ilawe, Ado, Gboyin, Aare, Ilumoba, Ijeo, And Ikere down to the befitted palace of the Oba.
This infrastructures are competing at global pace. Is my binoculars shaded from distance blur? I Just couldn't accept the silence of why people are not talking about this. He is either not doing it or not there yet.
You wonder how his millions of advert achievements soar on lips of many, it is because is well carried by the disgruntled and some bobbing talebearers. Tell me, which of his achievements have you not seen or heard about?
The sham scholarship given to indigent students (medical students), incentives for best performing teachers, moderate study allowances for students, renovated classrooms, prompt payment of teachers salaries or discontinued social security schemes, youth emancipation programmes and the replacement of which features more bandits around the good look of Ado, from atiKan-Kan to, Ajebandele, and Odo Ado.
Under Fayose, the capital state is the hype of a hedge fond. The face of Ado is changing from bad to worse. Thanks to the demolition of buildings and markets. The IGR of the state purportedly at the range of 600-900 million during the administration of Gov Fayemi is no longer reliable in figures.
Little wonder he chose to ride back at Eco bank, GTB banks and other non paying tax institutions in the state. To show his seriousness is not a bluff, a conjoined Caterpillar was stationed along Bank road waiting to demolish anything ordered.
His critics are not buying however, the gigantic Funmi Olayinka building at Fajuyi. What a show for the shame!
The many Heath facilitated equipments for health institutions, and the social amenities provided for the people; just so the labour Union would remember before displaying their ingratitude. This man has been paying salaries - he is oremekunu. "Any Governor that cannot pay salaries should resign" - that was from a Governor with saving torch right? Nigerians are studded to make example
of a Governor that won't walk the talk. None of his clarity ever displayed vantage purpose.
I have so much studied and watched him from close and far. He strides beyond repetition. He has held sway peoples intelligence to the best of his knowledge. Reading through the walls of his stooge on tempting foreplay wouldn't reveal otherwise. He is that good. Exactly when his character seem fading, another bully of his never lasting antics furnishes us knuckle-headed.
Ekiti is having the fate of their own under wrap and they are never in-effusive of it. In the 2years Journey, honor in the land is leapfrogging. Law we know, performance we see, playing hard ball with the truth is imprecise of any position, and it will flustered any leadership economics.
While, I wish him well in office, those who chose to keep quiet these trying times are mocking his ending trajectory to perdition. That I won't do.
To be continued.......
Maxwell S. Adegbenro
@Maxwellcares
[email protected]
Disclaimer:

"The views/contents expressed in this article are the sole responsibility of

OLUSEGUN ADEGBENRO

and do not necessarily reflect those of The Nigerian Voice. The Nigerian Voice will not be responsible or liable for any inaccurate or incorrect statements contained in this article."