Wizkid's Babymama Shows DNA Report That Proves He is Father of Son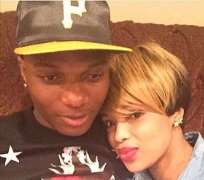 All these while a lot of Wizkid's fans have been hitting Binta Diamond Diallo as a gold digger, she has been waiting for the perfect moment to shame them. And she has done just that! She has shared the result of a DNA test that confirmed that Wizkid is child's father.
Early this year, Binta has relocated to Nigeria but things did go smoothly when Wizkid rejected their son Ayodeji Ibrahim. She packed her bags and went back to America and resumed her work. Her departure from Nigeria has not stopped her from fighting fans. This has forced her to put records straight since she has been accused and treated unfairly by fans.
She said "I'm a working mother," noting, "I never needed a penny from no man. As you can see, me and my son [are good]. My son is well taken care of," she continued, and then sent off one of the trolls with a, "go back to your miserable life and find something else to make you feel better."
Then she showed off the DNA report with these words "Read between the lines," adding that DNA doesn't lie