Apprehension in creeks as military deploys fighter jets in hunt for Niger Delta Avengers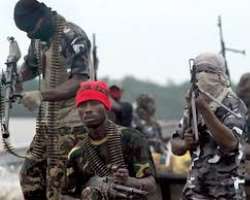 The Nigerian military has deployed  fighter jets and surveillance aircraft  in some coastal communities in search of hideouts of the militant group, Niger Delta Avengers (NDA).
The deployment, which has created tension and anxiety among the inhabitants of the affected communities, as they fear likely aerial bombardments of their communities.
Military planes were sighted in some the communities in Southern Ijaw where most of the attacks on pipelines and killing of soldiers occurred recently.
Soldiers had recently invaded Gbaramutu Kingdom in Delta state allegedly in search of 'Tompolo'who is believed to be the unseen hand driving the recent uptick in militant activities in the Niger Delta Region.
He had refused to appear in court where he is being charged with corruption.
A resident from Ondewari, a community in the council, said the sight and sounds of the jets caused tension in the area.
He said some residents were already getting ready to seek refuge in the mangrove following fears of possible bombardments when the jets disappeared.
"We noticed the jets in the morning. They were military jets. We were afraid and most people were thinking of taking cover when suddenly they flew away. We are still afraid that they may come back. We can't forget the Odi experience", he said.
But the umbrella body of Ijaw youths, the Ijaw Youths Council (IYC) immediately condemned the presence of the fighter jets in the creeks.
The IYC President, Udens Eradiri, after an emergency meeting of the council, in Yenagoa, said the jets were also sighted in some parts of the state capital and Gbaramatu in Delta State.
He urged the military to apply caution in their operations and warned against the strategy of intimidating Niger Delta residents.
Eradiri said the crisis would not be resolved by deploying fighter jets adding that intelligence was a better strategy of dealing with the activities of the militants.
He said the council was happy with the President when he said in his May 29 broadcast that he would engage the stakeholders in the region to resolve the crisis.
He said: "Ijaw people are peaceful people. Ijaw people are not avengers. These jets flying around Yenagoa and Gbaramatu, the avengers are not in these places. We just hope that they were just passing. But if it is hovering around, it means that something is about to happen.
"The military should use more of intelligence so that you don't go around destroying communities. We call on the military to withdraw its tactic of intimidation in Ijaw land.
"Jet fighters will not solve the problem. The economy is in a terrible forecast and we must do everything to save it. We are at the receiving end of the activities of these militants. Why are we also being intimidated".
He said the Niger Delta region was not interested in pipeline surveillance insisting that only true federalism would solve the problem in the region.