Ibin Rates Imo Government Low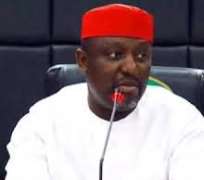 The performance of the Rochas Okorocha led government in Imo state has been rated very low with the last one year described as a year of impoverishment.
A pro democracy civil society group in the state, Imo Bilie Initiative for Social Justice (IBIN) during a press briefing held in Owerri on Saturday the 28th of May to mark the 2016 democracy day scored the government low.
The grouped accused the government of creating hunger and poverty in the land through her bad economic policies and politics of exclusion. They claim the projects executed by the Governor are of poor standard and quality.
Addressing journalists through her National coordinator Comrade Aku Obidinma (Abdul), IBIN condemned the sack of workers, the cut in workers salary and the subsequent inability to pay them for about four months, the non payment of pension stipends to pensioners for over two years now and closure of high institutions and courts in the state owing to the strike by their workers over non payment of salaries by government.
IBIN equally condemned the harassment and intimidation of critics and journalists by the government. Comrade Aku described the intense suffering and hardship in the state as government inflicted.
He described as unacceptable a situation where instead of creating more jobs through building of factories and industries as she promised during her campaign is head bent on sacking or strangulating those working.
The grouped frowned at a situation where the people of the state are daily getting impoverishment and reduced in size while the Governor and his household are growing fatter daily with work going on day and night at his various mansions and properties the state. Imo Bilie also took a swipe on the political and elite class in Imo whom they accuse of abandoning the people in the suffering hands of a bad government.
They challenged them especially those with political aspirations to end their grave silence which has given the government a field day to handle the people the way they like without restraint. According to Comrade Aku, he stated that the best time for them to show that they care for the people is now and not during elections. Finally IBIN urged the government to turn a new leaf and respond to the plights of the people.
Disclaimer:

"The views/contents expressed in this article are the sole responsibility of

Obidinma Aku

and do not necessarily reflect those of The Nigerian Voice. The Nigerian Voice will not be responsible or liable for any inaccurate or incorrect statements contained in this article."