How Alibaba Escaped Being Beaten By Late Abacha's Securities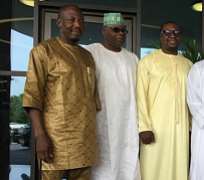 Veteran Nigerian comedian, Ali Baba, sure knows when to make people laugh out of their predicament which can only last for a while but sometimes not being careful can be very hurt.
The comedian, made a joke of himself recently after sharing a picture of himself with Al Mustapha, fromer aide to late General Sani Abacha, on how they became close friends.
Narrating he got close to Al Mustapha, he said it was on a night when he overstepped his bounds while anchoring an event and had to tel the then Head of state, Abacha, to take off his sunshades since it was 9pm to be able to see the cultural troupes that were to come out and perform.
He said after making the statement, the President obeyed but he noticed some funny movement with his security details and he had to run to sit close to his feet for safety.
According to him, "It was in the early 90s and I was just a green horn in the MC business. I was paired with Ikenna Ndagoba to MC a State Dinner (Any event that has a CinC or someone in that class). When it was time to introduce the Akwa IBOM cultural troupe, Uncle Ikenna allowed me to do it. "The next performance is from AKWA IBOM. The moves, rhythmic music, costume, melodious songs,represent a history and tradition of a people, who have a rich culture. The performance tonight is fit for royals."
"That was when I overstepped my boundary. I turned to General Abacha and said, "Your Excellency sir, it's 9pm by my time, and these beautiful troupe is about to perform, I will advise you shake off your spectacles so you can see what they will be shaking clearly, and it's too late sir to wear shades." He laughed. And removed them. Then I introduced them. I then noticed that security details were moving back stage. I immediately knew that my own was finished. So I went to sit at the feet of Abacha for protection.
"He told me as I sat there, that it was wise of me to do that. Then called Al Mustapha and told him to make sure no one harassed me. Major and I had been friends since then. The man's intelligence and knowledge of national security dynamics and politics is outstanding. We differ on many issues. And we agree on a lot. Like he will say "No sentiments, just tell me your facts and the positions you hold. Then I can tell you mine and tell you my positions. No sentiments"