FG DECRIES BBC' S MISREPRESENTATION OF NIGERIA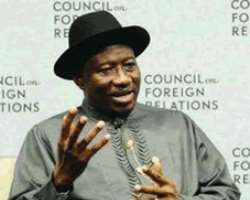 Jonathan
The Federal Government has expressed disappointment with what it described as the failure of the British Broadcasting Corporation (BBC) to adhere to minimal ethical code of balance and fairness in the recent documentary, titled 'Welcome to Lagos' broadcast recently by the global new organization.
Reacting to the negative impression conveyed to its global audience about Nigeria through the documentary, Minister of Information and Communication, Prof Dora Akunyili in a release signed by her stated that the government viewed the 'documentary as a deliberate design by BBC to denigrate the dignity of Nigeria before the international community, create fear and frustration in the minds of tourists and potential investors in the country.'
Though the Federal Government acknowledges the existence of challenges in urbanisation of Lagos as in other major cities in parts of the world, Akunyili stressed the government's the government rejection of the deliberate attempt by the BBC to portray Lagos and by implication, Nigeria as a city and nation of slums and scavengers.
In a formal letter of protest being forwarded to the BBC, Akunyili noted that the Federal Government requested the BBC to stop further broadcast of the documentary and take steps to restrict the documentary from further circulation in the best interest of relations between the BBC, the government and Nigerian people.