Why I was banned from acting…Yoruba Actress, Omodolapo Obembe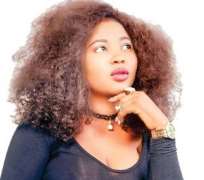 Fast-rising actress, Omodolapo Obembe has revealed why she was once banned from acting. The actress is a graduate of computer science from the Osun State Polytechnic .
She made her debut into the movie industry four years ago, while she was still in school. The actress was said to be shuttling between Osun state and Lagos state during the period of her studies as she was often getting roles in Lagos.
Revealing how her journey has been so far, she said it was never easy for her as her mother was often against her going into acting.
And she banned her from acting, making her studies a yardstick. After a while, she was able to convince her mum, that she could combine both studies and her career.
Today , the fast growing actress, has featured in quite a number of flicks alongside top actors and atresses like Toyin Aimakhu, Ricardo Agbor, Wale Akorede aka Okunnu, Olaniyi Afonja aka Sayenri, Adeniyi Johnson, Toyin Afolayan, Yinka Quadri, Akin Lewis, Ayo Olaiya and Murphy Afolabi amongst others.