Interim chairmanship: Confusion in PDP as Federal High Courts sitting in PH, Lagos give contradicting orders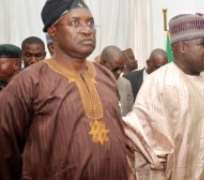 A Federal High Court sitting in Port Harcourt, Rivers State has
granted an interim injunction restraining the immediate past national
chairman of the Peoples Democratic Party (PDP), Senator Ali Modu
Sherrif, and Professor Adewale Oladipo who were removed from office at
the PDP National Convention held on Saturday May 21, 2016, from
parading themselves as national officers of the party pending the
hearing and determination of the motion on notice brought before it by
the Peoples Democratic Party.The court on Tuesday, May 24, 2016 also granted a restraining order on
any member of the National Working Committee of the PDP who was
removed from office by the party's national convention in Port
Harcourt from receiving nominations and or submitting names to the
Independent National Electoral Commission (INEC) as officers or
candidates of the PDP in whatever capacity pending the hearing and
determination of the motion on notice brought by the party.But it asked INEC to recognise the  national caretaker committee of the PDP headed by Senator Ahmed
Markarfi, former governor of Kaduna State, also got a boost with an
order of the court mandating INEC to recognise it in all matters
pertaining the conduct of primary elections for political offices and
the submission of the PDP List of candidates for any elections to be
conducted by INEC pending the hearing and determination of the Motion
on notice.
The Port Harcourt also restrained INEC  from according or
continuing to accord any recognition to Sherrif and Oladipo or any or
all members of the national working committee of the PDP removed from
office at the party's national convention in Port Harcourt, as
officers or organs of the PDP pending the hearing and determination of
the motion on notice.
Meanwhile, another Federal High Court sitting in Lagos at the same day declared  as illegal the caretaker committee constituted on Saturday by the Peoples Democratic Party at its controversial National Convention in Port Harcourt, Rivers State.
Headed by a former Governor of Kaduna State, Senator Ahmed Makarfi, the caretaker committee is to take over the affairs of the party from the National Working Committee headed by the Acting National Chairman, Senator Ali Modu Sheriff.
But on Tuesday, Justice Ibrahim Buba declared the caretaker committee illegal.
Buba further directed the Inspector General of Police, Solomon Arase, to enforce the order.