MY INTEREST IS TO HAVE STABLE PDP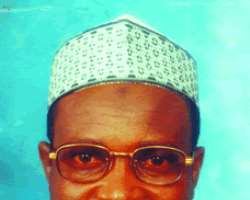 Alhaji Ghali Umar Na'Abba
Former Speaker of the House of Representatives, Alhaji Ghali Umar Na'Abba, has revealed that what he wants most is a stable Peoples Democratic Party (PDP). He also said that he is neither broke nor bankrupt.
Speaking in Kano, Na'Abba expressed worry about what is happening in the PDP and said that there is need to have a stable party, where everybody would be included. He rejected the policy of exclusion indirectly introduced into the PDP, saying that such move would only deny the party the services of those who have wealth of experience.
The former speaker said that there is pressure on him to contest for the positions of governor, senator and president.
In a recent interview with the media in Abuja, you were actually talking about life after power. May we have an insight into the challenges of life for you since you left power in 2003?
You know power normally goes with lots of things. For instance, when one is in power, he has a retinue of workers, a retinue of everything and when one leaves power, these things don't diminish. For some reasons, one's expenses hardly reduce. The reduction in expenses is quite minimal whereas when someone is in power, the state takes most of these responsibilities off one. Now, one has to take personal responsibilities for lots of things. And it is quite difficult. By the time one leaves power, his life becomes quite restricted. So, one cannot go and do quite a lot of things. There are many things one cannot do.
This is because once you leave power you have an image problem. One's image, the image of the institution where one had served and the image of the country all come to bear. And because one is restricted, the income coming to him may not necessarily be enough to shoulder many of these responsibilities and, therefore, it is quite difficult to live after one has tasted power. In many countries, those who have tasted power are taken care of by the state, to a large extent. But here in Nigeria, with the exception of the governors, who had been legislating or who had been asking their legislators to legislate that they get so many things after power, most people, from the legislative arms of governance, might not be enjoying certain things.
Of late, there have been efforts to get a legislation to take care of those who had finished their tenure in democracy. What is the position of that bill and to what extent will you subscribe to these efforts?
Well, I am glad that the National Assembly has taken it up and the Senate has recently passed a draft bill into law, although it has not yet become law, since the House of Representatives has not done its parts. I am glad that the Senate has made some efforts. That will also see the heads of the legislators getting some compensation from the system after they leave office. We are waiting for the House of Representatives to do same, so that the Revenue Mobilization Commission can fix whatever they deem fit for us. But really, what the National Assembly has done it is worthy of commendation. For those who don't understand, there is a saying that where you stand depends on where you sit. Those of us who served as Speakers, House of Representatives and as Senate Presidents really have an image problem. We should not be seen in ministries looking for contracts; we should not be seen in the offices of local government chairmen looking for contracts; we should not been seen in public doing menial things, because that image, which is a Nigeria image, must be maintained by us. So, as much as possible, we should be insulated from the turbulent climate of business. so that we can concentrate in helping the state to stabilize.
Recently, a newspaper headline said you were broke and you objected to it. What is the true position?
First all, I must condemn the journalist who wrote that story. Because I never told any journalist that I am either broke or bankrupt. What I was telling them, after they asked me about contesting for the governorship of my state was that I don't have the kind of money that is needed or that is sufficient to contest for a governorship position in this country, because it is quite costly. You see, this was the context within which I spoke and I also said that those in the state Houses don't normally use their personal resources. So, if one is going to contest elections with an incumbent governor, whereby he has to use his personal resources with somebody who is going to be using the state resources, definitely except some miracle happens, he cannot win. That was what I said and the journalists, being mischievous, went and published a story and took what I said out of its context.
Looking at the recent upheaval in the Peoples Democratic Party (PDP), a number of people believe that what the reformist group is asking for is in line with what people like you had said earlier. How come you are not part of the struggle for this change?
Well, I am not excluded. I am a careful observer of things now. I believe that whatever is intended to be achieved should be through dialogue rather than confrontation. When I was fighting, so that these kinds of things they are asking for could happen, most of these people were aligning with the powers that be. Most of the people in the reformist group aligned with the powers that be. But now, because most of them have become victims (of the system), they cannot now begin to do things the way they are doing. This is because it takes most of them becoming victims to begin to fight what they are fighting against. Not that things are okay, not that things are all well in the party. Even those in charge of the party are complaining about one thing or the other. There is no perfection. But I believe that in order for the polity to be stable, dialogue is the answer. This is because with what is happening today all the powerful people in the country have set themselves against themselves. And in such an atmosphere, it is difficult to do for this country what needs to be done. Unless people now relax and begin to do these things, in an atmosphere that is friendly and brotherly, it is going to be costly for the country.
Are you not afraid that the PDP might have started a journey of self-destruction after all?
Well, if it starts a journey of self-destruction, I cannot help it. What I am doing in my own way is to ensure that where I have influence I speak to people. I seek to inform people that they should always play by the rules and there should be democratic principles. I keep doing my own part and if other people are not doing their own part and this inevitably leads the party to self-destruction, then it is something that I cannot help.
Do you think that the reformist group's demand is in the best interest of growing the PDP?
Well, you see, to a certain extent, these demands are true. But, we should also examine the party's own part in this matter.
The National Chairman of your party, Prince Vincent Ogbulafor is being arraigned before the ICPC on the grounds of corruption. How does this affect the PDP?
Honestly, I am not competent to speak on that. The matter is before the court. And the chairman of the party has not told me anything about his situation and I also did not ask him. I don't know all the facts and since I did not know all the facts, I am not competent to speak on what is happening.
Zoning and rotation have again become an issue. Some people say it is high time the country allowed every part and every body to vie for the presidency. What is your view?
Well, my mindset is that we should allow everybody from all parts of this country and from any part of this country to contest for any election. But I know that when people speak about zoning, they normally speak about the presidency and since that is constant, I believe that once the presidency emerges from a particular part of the country, then there must be some balancing act. And that is where the zones become important. Therefore, my call is that the presidency should be open to all and who ever happens to find himself there, should be able to give justice to all parts of the country. We have conquered a lot of things. We have conquered our fears, I believe, in the last 10 years of this democracy. We have accepted ourselves and we have realized that we are not the demons that we call ourselves across the divides and, therefore, since we have conquered most of these things and most of these barriers are broken, it is high time any one of us is given the opportunity to become the president of this country.
What of if Acting President Jonathan decides to contest the presidency?
Honestly, I will not oppose it. What I will only urge him to do is to try to persuade the people. You know, let him consult with all sections of the party; let him persuade the people and let him persuade the party. You know people; you know that men are creatures of reason, not just passion. If, of course, the people see reason with him to contest, they will not oppose him, particularly because I understand that he is somebody who wants to give justice to all Nigerians. It is only when people like Obasanjo is in power that fear is predominant.
You know that Obasanjo, in his eight years, have been nursing these prejudices against people who worked against him in the past and he has been nursing grudges against the North because Sani Abacha jailed him. All of the narrow-minded feelings he has nursed against the North caused him to be failure as a president, to the extent that even in the South West, where he comes from, majority of the people now hate him. Therefore, the party has to be careful in looking at the people who wants to be the president. I will like to believe that Jonathan is not going to be like Obasanjo.
A lot of people have been clamouring that people with vast experience, like you, should hold elective positions. What is your next political direction, ahead of the 2011 polls?
Well, you see one of the things that have so far destroyed this democracy is this idea of exclusion. Because of certain people's political belief, no matter how important they are in the polity, they become excluded. Just like Obasanjo excluded some of us and Umar Yar'Adua later inherited that policy of exclusion. He excluded some of us. Whether anybody likes it or not, we have followership in the polity and whether anybody likes it or not, we have vast experience. It is very disturbing that in this polity, the Na'Abbas, the Anyims and the Ken Nnamanis and so on and so forth, cannot be seen representing the government anywhere, whether as chairman of a board, whether as ministers and whether as ambassadors. So, the moment you looked at it, you will know that there is a deliberate policy of exclusion. And this is very unfortunate. I hope that the system, particularly the party, will look at this problem because it is very dangerous. When you look at it, you find that all of us (who are excluded deliberately) are from the legislative arm of governance.
Why this exclusion?
Well, in the case of Obasanjo, it was a punishment. In the case of Yar'Adua, it is a situation whereby people, like him and his cronies, don't want to see people who have a higher profile than their own around them; which means that there is a complex, an inferiority complex, somewhere.
What are you proposing for yourself in 2011?
Only God knows. Only God knows.
But what is your plan?
First of all, I will like to see my party stable. This is what I want to see most. Of course, people have been clamouring for me to contest for the governorship; some are clamouring for me to go the Senate, a lot of them are also clamouring for me to contest to become the president of this country. But all of these things are dependent of many variables, which time will definitely answer.