Nigeria's Greatest Philanthropist Late Chief MKO Abiola To Be Honoured At West African Philanthropy Awards As Ghanaian And Sierra Leonean Ministers And MP Confirm Attendance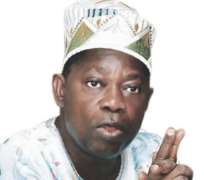 The list of attendees at the Prestigious West African Philanthropy Awards 2016 scheduled to hold in Abuja, Nigeria keeps getting bigger. Recently, Hon. Albert Abongo, Ghanaian Former Minster of Water Resources, Works and Housing and current Member of Parliament representing Bongo Constituency, confirms attendance at the event.
In a chat with the organizers, the self-sacrificing politician cum engineer who is the committee Chairman on Health extols the organizers of the event and re-emphasizes on the importance and role of Philanthropy in community building.
Also joining the list is renowned lawyer and politician - Hon. Dr. Bu-Buakei Jabbi, Sierra Leonean former Minister of Government and present Member of Parliament representing Constituency 08, Kenema, Eastern Region.
At a recently held press conference in Cotonou, Benin Republic, the organizers affirmed that this year's edition holding on the 12th of June will be dedicated to celebrate the life and times of Nigeria's greatest philanthropist, late Chief MKO Abiola whose whole life was completely sold out to humanity.
The event amongst other things will feature a posthumous award and testament of his munificence deeds by beneficiaries as well as a short documentary capturing his benevolence deeds.
The West Africa Philanthropy Awards which promises to be unique by drawing participation from over 13 West African countries is an annual event conceived to give proper recognition through the conferment of awards of excellence and distinction to individuals, corporate and communities engaging in sustainable social development through giving of their time, money and skills to worthy initiatives aimed towards strategic social development in West Africa.
Our main objective is to celebrate outstanding contributions of Individuals and organizations so as to create awareness on the significance of giving thereby creating role models for local philanthropy.