We don't have documents linking Saraki to London property — Prosecution witness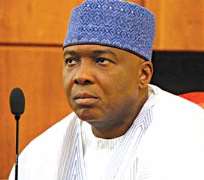 A prosecution witness in the ongoing trial of Senate President, Dr Bukola Saraki, on false assets declaration, told the Code of Conduct Tribunal (CCT) sitting in Abuja, on Wednesday, that he has no official documents linking the Senate president to the ownership of London properties.
The witness, Micheal Wetkas, made the confession during cross examination by Saraki's counsel, Paul Usoro.
He said the prosecution only obtained unofficial information of the properties from their foreign partners in London.
Wetkas said the partners promised to oblige them with the official documents of the properties, but they were yet to do so.
'In our investigation, we normally receive unofficial information from our foreign partners,' he told the Danladi Yakubu Umar-led panel.
The EFCC witness also informed the tribunal that Saraki used the N375 million obtained from GTB Plc to buy House No. 7 and 8, Whitaker Street, London in 2011 and 2015 respectively.
He said the title number of the House No. 8 was NGL802235 and the second property Number was NGL802661.
The witness said the bank told them that the addresses of the properties were not disclosed to them, when the investigation team requested for the full detail of the said properties.
The loan documents attached, according to Wetkas, showed that the N375 miilion loan collected by Saraki from GTB Plc and the narration indicated that he used the said money to buy properties in London.
'When we saw the statement on the mortgage redemption transfer telex, we were convinced that the defendant used the funds to acquire property in London,' he said.
However, the EFCC counsel, Rotimi Jacobs, lamented the pace in which the defence was handling the case, accusing it of attempting to confuse and demoralise the witness.
Chairman of the tribunal, Umar, adjourned the case till May 25, for continuation of cross examination of the witness