DON'T IMPEACH BANKOLE, GROUP CAUTIONS REPS, OBJ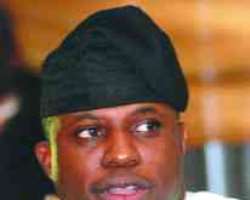 A group, Centre for Participatory Democracy (CPD) has cautioned against the move to impeach the Speaker of the House of Representatives, Hon. Dimeji Bankole, describing it as an ill-wind.
The CPD, in Lagos expressed displeasure 'on the wrong timing and absolutely unnecessary act of some members of the House to impeach the Speaker,' asserting that 'this is not the time for such moves as there are urgent state matters and burning national issues to attend as soon as the House resumes from its three weeks Easter recess.'
In a statement signed by the Center's Coordinator of Research and Programs, Mr. Gbenga Ganzallo, the group urged members of the House to shun, at this time, any act that might cause chaos and heat up the polity.
According to the statement, the House should rather rally round the leadership of the House to ensure that the obnoxious sections of the 1999 Constitution of the Federal Republic of Nigeria is adequately amended and the Electoral Reforms Bill passed.
'They should rather adopt a pro-people attitude by ensuring that a level playing ground is created for everybody in the forth coming elections. Nigerians are looking up to the House and they should not fail to realize this.
'Engaging on an impeachment procedure at this time will be a step in a wrong direction and will only destruct and delay the debate on two very important issues before the House which are the passage of the electoral reform Bill and the amendment of the 1999 Constitution,' the group reasoned.
'We would expect that in a short while, the House will pass the electoral reform Bill and amendments in the1999 Constitution for the Acting President, Dr. Goodluck Jonathan to assent in preparation for the forthcoming general elections,' the statement further read.
In a related development, another group, the Coalition of Yoruba Self Determination Group (COSEG), has warned the former president, Olusegun Obasanjo not to heat up the polity. This warning was contained in the communique signed by the Secretary General of the coalition, Mr. Rasaq Olokooba, who warned former president Olusegun Obasanjo not to heat up the polity or cause unnecessary interference in the legislative arm through his proxies.
The group alleged that the current crisis rocking the House of Representatives over plan to remove the Speaker, Dimeji Bankole was traceable to him, adding 'Nigerians, especially the Yoruba people are tired of Obasanjo's meddlesomeness in the affairs of the country.'
While advising Obasanjo to maintain his status as an elder statesman and steer clear of politics, the group also urged him to 'repent and use his position to correct the eight years of anomalies of his past administration through meaningful advice to the current political office holders.'