OBJ BACKS OGBULAFOR'S TRIAL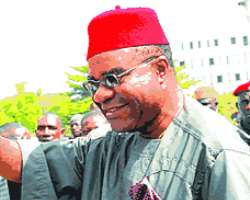 Former President Olusegun Obasanjo has thrown his weight behind the trial of Chief Vincent Ogbuluafor, advocating the Peoples Democratic Party (PDP) chairman be jailed if found guilty of stealing public funds. The chairman, PDP Board of Trustees (BoT), who spoke to journalists in Washington DC said Chief Ogbuluafor will not be the first senior party official to be imprisoned if found guilty.
In apparent reference to his bosom friend, Chief Bode George who is serving his sentence in Kirikiri prisons, Obasanjo said, government will not interfere in the decisions of the courts.
'Other officials before him had been jailed and a party we described as one of the largest in Africa is bound to have set-backs now and then, so it is not a big deal. Besides, Nigerian government, presently, and when I was in power, have zero tolerance for corruption' he said. He expressed optimism that Acting President Goodluck Jonathan will strengthen the fight against corruption. 'Anyone found guilty will be made to face the music, no matter how highly placed,' he said. He however cautioned that people should not be quick to pass judgement on the embattled party leader until the case has been decided. ' He will have the opportunity in court to defend himself and should be regarded as innocent until proved otherwise.'
The former Nigerian leader said the country has made tremendous progress in fighting corruption. 'No one is above the law. We have tried and jailed very important people and that is a sign that the war against graft is working.'
Obasanjo said the incapacitation of President Umaru Yar'Adua was a big surprise to him as well as the country. 'When I picked him as my successor, I was assured he was in good health. He was the most qualified for the job and was not corrupt, so he was a natural choice before he fell sick,' he stated. He also revealed he picked Yar'Adua based on family pedigree.' His elder brother is an honest, upright and loyal man. My greatest regret was that he died in prison,' he stated.
Moreover, the former president, said late head Head of State, Gen. Sani Abacha plotted to eliminate all those he felt were threats to his ambition to rule Nigeria for life.' He planned to kill Yar'Adua, M.K.O Abiola and me. He succeeded with Abiola and Yar'Adua, only God saved me from his plans, I never planned any coup against him.' he stated. The former President called on Nigerians to rally round the current administration, adding that the emergence of Jonathan is an indication the country was getting more matured democratically.
'We have been operating our constitution for only 12 years now and already we have the two most senior official of government from minority tribes,' he stated. He defended in performance as president and said he took a number of decisions that put the country on the path of growth.