Two Fulani Herdsmen Sentence To Jail For 20 Years In Delta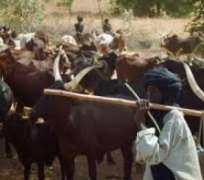 A Delta State High Court has sentenced two Fulani herdsmen, Hassan Abidu and Yakubu Salem, suspected to be members of a group of armed nomads terrorizing indigenes of Ibusa and its environs especially farmers, to 20 years in jail with hard labour.
The Court pronounced the guilty verdict on the two Fulani rovers on a two count charge of unlawful possession of firearms proffered against them by the Attorney-General of Delta State, punishable under Section 3(1) of the Robbery and Firearms (Special Provision) Act Cap R.II, Laws of the Federal Republic of Nigeria, 2010 and were sentenced to 10 years imprisonment each with hard labour and without an option of fine.
According to Prosecution, on or about the 23rd day of February, 2015 at about 0600 hours, the Ibusa Police Division received a distress call that a group of suspected Fulani boys numbering about six were sited around Power Line, Ibusa armed with dangerous weapons including firearms.
A team of Anti-Robbery Squad which responded to the distress call later arrested Hassan Abidu and Yakubu Salem in possession of two single barrel guns without license which they claimed they used for hunting, claiming innocence that they did not know that it was an offense to carry arms without license.