WomanRising Opens Nomination for Woman Entrepreneur of the Year Awards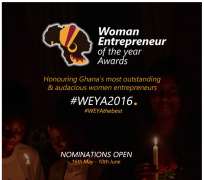 Following the overwhelming success of the release of the 100 Most Outstanding Women Entrepreneurs in Ghana, WomanRising, a subsidiary of The African Network of Entrepreneurs (TANOE), is pleased to announce its annual initiative aimed at identifying and honouring outstanding and audacious Ghanaian women entrepreneurs in all sectors of the economy dubbed the "Woman Entrepreneur of the Year Awards (WEYA2016)".
According to the CEO of TANOE, Ekow Mensah, the Woman Entrepreneur of the Year Awards is aimed at giving women entrepreneurs in various sectors of the economy the needed public recognition and honour for their outstanding achievements and audacious exploits in business as part of their contribution to the development of a vibrant Private Sector and the economy of Ghana.
WEYA 2016 is designed to discover and celebrate the most outstanding women entrepreneurs in over 30 vital sectors of the economy. With a vision to encourage more women to embrace entrepreneurship and to venture into sectors that have been dominated primarily by their male counterparts, WEYA 2016 will showcase such audacious women that have ventured and are succeeding in such sectors.
The WEYA 2016 Categories include the following:
1. Agriculture & Agribusiness
2. Banking & Finance
3. Beauty & Wellness
4. Branding & Marketing
5. Capacity Building & Coaching
6. Communication & Public Relations
7. Construction
8. Distribution, Wholesale & Retail
9. Education
10. Engineering
11. Events & Logistics
12. Fashion
13. Food processing
14. Health
15. Hospitality
16. Human Resources
17. Insurance
18. Investments
19. Legal
20. Manufacturing
21. Media
22. Mining
23. Oil & Gas
24. Photography
25. Printing & Publishing
26. Real Estate
27. Security
28. Social Enterprise & Non-Profits
29. Sports
30. Technology
31. Telecommunications
32. Transport
33. Travel & Tourism
34. Waste Management & Sanitation
Other special WEYA 2016 categories are
1. WomanRising Entrepreneurship Life Achievement Award
2. WomanRising Entrepreneurship Hall of fame
3. Woman Entrepreneurship Advocacy & Support Award
4. Women Entrepreneurship Network of the Year
5. Non-Ghanaian Woman Entrepreneur of the Year
6. Emerging Woman Entrepreneur of the Year
7. Woman Entrepreneur of the Year
Nominations have been opened for a month from the 16th of May to the 10th of June, 2016. This will be followed by the outdooring of the WEYA 2016 Judges and a 50 member Faculty who will be voting for the shortlisted women entrepreneurs.
Nominations can be submitted on www.womanrising.org/weya and inquires can be made through email [email protected] or by logging into www.womanrising.org