BEST WAY TO IMMORTALISE GANI BY COMMISSIONER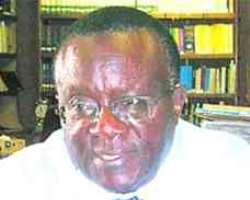 A lawyer and Lagos State Commissioner for Information and Strategy, Mr. Michael Opeyemi Bamidele, has said that the best way to immortalise the late legal icon, Chief Gani Fawehinmi (SAN) was to keep his legacies and ideals alive.
Bamidele made this remark yesterday (Thursday) at a post humous birthday lecture organised by the Gani Fawehinmi Students' Chamber, Faculty of Law, Lagos State University (LASU), Ojo, to commemorate the second anniversary of Fawehinmi's demise.
In his lecture, Gani Fawehinmi, The Rule of Law and the Defence of the Down Trodden, the Commissioner, who described Fawehinmi as a nationalist, foremost team player and conscience of the nation said 'he would be very happy in the grave if his noble thoughts and deeds would continue to serve as indelible reference points in the history of our dear nation.'
Speaking further, the Ekiti Central Action Congress (AC) Senatorial aspirant asserted that 'as a consummate political fighter, a seasoned and accomplished legal luminary, greatest legend of freedom and democracy in Nigeria, mere rhetoric is not enough to immortalise him.'
His words 'Beyond the ritual of rhetoric, encomiums and celebration, it is noteworthy that the greatest gratitude that could be rendered in appreciation of the legendry contributions of Gani Fawehinmi to our nation's developments is for all men of goodwill, young and old, to re-dedicate themselves to the patriotic goals of nation building for which cause Gani died.
'The best way to immortalise great minds like Gani is for all of us to be more pro-active and decisive in the struggle to strengthen the diverse values and institutions that are critical to the sustainability, growth and development of democracy in Nigeria.'
He concluded that it would be a great disservice to the sacrifice the late Fawehinmi rendered and several undue pain and agonies, deprivation and humiliation he was subjected to under the military 'if we recede in our commitment to electoral integrity, due process, quality education, independence of judiciary, press freedom, fundamental human right advocacy, qualitative heath care delivery, constitutional democracy public probity and nation building in general.'
Mr. Saeed Fawehinmi, who represented the Fawehinmi family at the occasion, thanked the organisers of the event for their thoughtfulness in remembering their father, enthusing that their late father would surely be very happy in his grave for keeping his ideals alive.
The Head of the Gani Fawehimi Student Chambers, Miss Abiodun Kolawole, also said that 'with this type of annual ceremony, I have a dream that equity and justice of the rule of law will prevail in my dear country,' adding that 'where there is life there is hope.'