Edo 2016: GMB APC Social Media Group And Rescue Delta Media Group (RDMG) Endorses Dr Godwin Obaseki For Governor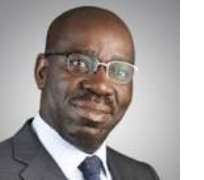 Vibrant social media groups of the All Progressives Congress (APC) in South-South geopolitical zone of Nigeria, comprising of GMB APC SOCIAL MEDIA GROUP and RESCUE DELTA MEDIA GROUP (RDMG) have endorsed renowned investment consultant and Chairman of Edo State Economic Team, Dr Godwin Obaseki for Governor in the forthcoming elections.
The Principal Administrator of the groups, Dr Fred Latimore Oghenesivbe in a statement said the endorsement of Dr Obaseki is in appreciation of the good governance Comrade Governor Adams Oshiomole offered the good people of our sister state.
He asserted that Deltans will forever be glued to their sister state of Edo notwithstanding the fact that Bendel State no longer exist geographically; but do exist in our memory, soul and spirit, adding that Gov Oshiomole in no small measures assisted APC DELTA during the 2015 governorship elections.
Dr Oghenesivbe who is also the South-South Media Director of Grassroots Mobilizers for Buhari (GMB) posited that Dr Godwin Obaseki has played positive and result oriented roles in Gov Oshiomole's administration which accounted for the excellent delivery of dividend of democracy to Edo citizens, pointing out that without the sound economic and investment advise rendered by OBASEKI it may not have been possible for the APC government in Edo State to achieve that much.
He warned the opposition in Edo to play the game of politics according to the rules, adding that the GMB APC and RDMG media groups will dedicate quality time and strategic political communication skills in line with Obaseki Campaign Organisation's direction to navigate through the storm from PDP propagandists.
"PDP in Edo is too fragile to withstand the solid APC political family led by the Political General, Gov Oshiomole. We shall deploy political communication skills in an uncommon dimensions to demolish the already broken walls of PDP in the forthcoming elections.
"Those who previously wrecked the socioeconomic fortunes of Edo State are ganging up to frustrate the speed of development. They will not succeed in their evil attempt to return Edo people back to Egypt."
We endorse Dr Godwin Obaseki for Governor and we shall assist his campaign media and publicity team to do the needful so as to ensure the victory of our Principal for the continuity of Gov Oshiomole's good governance in Edo State, the statement added.