Oil magnate Kola Aluko, who is being investigated by EFCC, sells Los Angelis home for $22m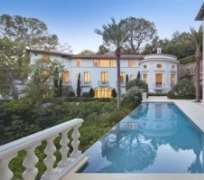 A limited-liability company with ties to Nigerian oil magnate Kola Aluko, who is being investigated by the Economic and Financial Crimes Commission for his alleged role in a multibillion-dollar money-laundering scheme, sold a contemporary-style home in the 700 block of Sarbonne Road in a deal that closed off-market.
Kola Aluko sold the home last week for $21.5 million, taking a $3 million loss after purchasing the sprawling residence in 2012 for $24.5 million. Aluko, 46, apparently sold the residence in an off-market transaction using a limited-liability company. An off-market sale in real estate refers to a property that is sold without any form of public advertising.
Designed by architect Paul McClean and built in 2011, the contemporary-style showplace sits on more than an acre, with a gated entrance, a subterranean garage and a 132-square-foot infinity-edge swimming pool.
 The 15,000 square feet of interiors feature walls of glass, 16-foot ceilings, marble walls and Italian fixtures throughout. A wood-paneled library, wine cellar and screening room are among the amenities.
 Film producer and speculative real estate developer Nile Niami, who is building a $500-million compound in Bel-Air, was the developer.
NEW YORK, NY – SEPTEMBER 26:Jamie Foxx and Kola Aluko, co-CEO of Atlantic Energy and co-founder of the Made in Africa Foundation ring the NASDAQ opening bell kicking off the kick-off of the Africa50 Fund at NASDAQ MarketSite on September 26, 2013 in New York City. (Photo by Jamie McCarthy/Getty Images)
For a long time, Aluko had been linked as a business associate of Nigeria's former Petroleum minister, Diezani Alison-Madueke, who is also currently under investigation by Nigerian and British authorities for money laundering and embezzlement. Shortly after she became oil minister in 2010, Alison-Madueke awarded Atlantic Energy- an unknown start-up co-founded by Aluko, a very lucrative contract to fund NNPC's (the state oil company) operational costs in four lucrative oil blocks in which the NNPC owned a stake. In return for providing funding to the NNPC, Atlantic Energy was to lift the crude produced from the oil blocks, sell it, and thereafter pay the state-owned oil firm its share of profits. But there is an allegation and considerable proof that Atlantic Energy did not make any upfront funding but lifted crude and that a huge chunk of the proceeds from the sale of the crude oil did not make it to NNPC's coffers and, by extension, the Nigerian treasury.
An email to Kola Aluko to confirm the sale of his Bel-Air property was not responded to as at the time of this post.
Los Angelis Times/ Forbes