How we robbed online phone shops – Confessions of crime syndicate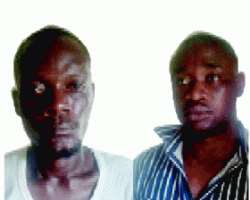 A syndicate that specialised in robbing phone dealers who trade on various online shopping malls, has been smashed by operatives of the Inspector General of Police (IGP)'s Special Intelligence Response Team (SIRT), arresting two suspects, identified as Bright Funsho, alias 'Hon. Wale Elegushi', and Yemi Akanni, while three mobile phones valued at N720,000 were recovered.
Crime Guard  gathered that the suspects operated by placing orders for expensive cell phones from various websites on the internet, and providing an address to phone dealers, where the phones would be delivered, after negotiation. But on arriving at the location, the suspects and his gang would dispossess the delivery man of the phones and abscond.
Sources disclosed that several phone dealers trading on the internet across the country have fallen victims to the suspects' activities. The suspects met their waterloo recently when they robbed a Lagos-based phone dealer, GSM Planet, on Toyin Street, Ikeja, of three Samsung Galaxy S7 Dual Sim phones, valued at N720,000.
One of the suspects, Bright Funshon, was said to have placed an order at Gbanjo Deals, a popular online shopping mall, requesting to buy three Samsung Galaxy S7  Dual Sim  phones.
He identified himself as Hon. Wale Elegushi, a serving member of the Lagos State House of Assembly, and Funsho was linked to the Managing Director of GSM Planet, Uzo Mbonu. Funsho asked that the phones be delivered to him at the office complex of Lagos State Ministry of Environment, Alausa, but when the delivery man arrived at the complex, Funsho allegedly took him to a corner, pointed a gun at his face and robbed him of the phones.
Victim's ordeal
Mbonu, while narrating his ordeal to  Crime Guard, said: 'I am the MD of GSM Planet at 9 Toyin Street, Ikeja. On April 14, 2016 I got a call from the MD of an online mall, Gbanjo Deals, that there was an Honourable who works at the Lagos State House of Assembly that wanted to buy phones. He said the Honourable wanted to buy three pieces of Samsung Galaxy S7 Edge Dual Sim phones.
The next day, the same MD of Gbanjo called again and said the Honourable was ready. He gave me the contact details of the Honourable and I called him. The said Honourable also gave the MD his office address at the Ministry of Environment, Alausa and that we should deliver the phones to that address. I sent my delivery man, Friday Samuel. On getting to Alausa, he met the said Honourable at the same address and the Honourable took him to a side, pointed a gun at him, took the phones and absconded.
'This happened around 1:30pm on that Friday. At about 2pm, I got the news and rushed down to Ikeja Police Station, where I reported the case. The SIRT team there assured me they would recover my phones, but I had my doubts because this year alone, I had been robbed three times but nothing was done. But to my surprise last week Wednesday, May 4, around 4pm, they called and told me they had arrested the 'Honourable' armed robber and had recovered one of the stolen phones.'
'I took to crime because I had no job'
Funsho, 35, alias Honourable, told  Crime Guard: 'I'm from Kaba in Kogi State and  married with two children. I don't live in Lagos but live in Ilorin. I'm also a 2004  graduate of  computer science from the University of Ilorin.' He also said he was  an IT engineer and specialised in mast installation, and that he had worked at a printing press as Assistant Manager.
'I worked between 2004 to 2011. I was earning N44,000 and the company is located in Ilorin. After then, I came to Lagos State and started doing installation with a company in Gbagada. I worked for more than one year, then lost my job in 2013. I had no job; that is why I went into crime. In 2014, I contacted Learning Mall, an online shopping mall, and introduced myself as MR. O.R. Wale, and told them that I wanted five Apple Iphone 6 Plus and four Huawei phones. I asked them to meet me at MM2 (Murtala Mohammed Airport 2), Ikeja.
The value of the phones was N1.360m. And when the delivery woman brought the phones, I picked her at the entrance of the airport tarmac and took her into a back. I pretended as if I was doing a transaction, then I asked her to go and get a bag where I would put the money for her. I watched as she walked out and I followed her from behind. She went to the car that brought her, spoke to the driver and went back into the airport tarmac. Thereafter, I went to the driver, asked him to give me the phones and he gave me all the nine phones, and I absconded.
'I sold the phones to Yemi for N930,000. But nine days later, I got a call and the caller said he was also dealing on phones and that they saw my number on the internet. They said they wanted to do business with me, and I rushed to the appointed location. Unknown to me, they were policemen and I was arrested, charged to court and I refunded the money of the phones to them.
'I spent 9 month in prison. When I was released, I did another job at Samsung office at Ogudu. I called them and I introduced myself as a staff of Ikeja General Hospital and they should bring the phones to me at the hospital. When the delivery man arrived, he called me and said he was at the gate. I went to pick him and took him to the reception. Then I collected the phones and asked him to wait for me and I took the back door and escaped.
'The worth of the phones was N95,000 each. I took them to Computer Village and sold them to one Elijah for N12,000 each. Two weeks later, the delivery man who brought the phones to me saw me at Fadeyi axis of Ikorodu Road. He was on a bike and I was at the bus stop, wanting to cross when he sighted me. He parked his bike and started shouting 'thief', 'thief'. When I recognised him, I took to my heels, and a crowd ran after me and caught me. The man's brother was a policeman. I was arrested, charged to court and remanded in prison where I spent three month.'
Robbing GSM Planet
On the GSM Planet operation, he narrated to  Crime Guard: 'I got the number of Gbanjo Deals on the internet and called that I needed three  Samsung Galaxy S7 Dual Sim  phones and they told me that they were going to get them for me. I told them I was a member of the Lagos State House of Assembly, and I gave them an address at the Lagos State Ministry of Environment, Alausa. When the delivery man arrived, I took him to an open office, asked him to sit and I left through the back door.
'I took the phones to Yemi, my receiver, and he paid me N420,000 for all the phones. I used the money in settling my previous court cases. I was yet to relax when the police came and arrested me again.'
'I didn't know the phones he sold to me were stolen'
Yemi, 31, in his side of the story told  Crime Guard  that he didn't know that the phones Funsho sold to him were stolen. 'I have a shop at Computer Village, Ikeja', revealed  the Ogun State-born suspect. 'I didn't know that the phones he sold to me were stolen. He told me that they were sent to him from abroad. And when I bought them, I took them to the market and sold to other phone dealers and issued them my own receipt at the correct market price. I made close to N50,000 to N600,000 from each phone.' - Culled from Vanguard.