EFCC conducts another search on Fani-Kayode's home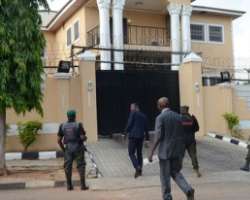 •Operatives of the Economic and Financial Crimes Commission (EFCC) in front of former Minister of Aviation, Mr. Femi Fani-Kayode's house in Abuja yesterday.
Operatives of the Economic and Financial Crimes Commission  on Thursday searched former Aviation Minister Femi Fani-Kayode's Abuja home.
The commission is investigating the  ex-Minister in connection with the N2.5billion illegally withdrawn from the Central Bank of Nigeria (CBN) and paid into the accounts of six chieftains of the Peoples Democratic Party (PDP) and the Goodluck Support Group (GSG).
Fani-Kayode allegedly got about N840million from the funds which were pumped into the 2015 presidential campaign.
The former minister is not denying receipt of the fund is however insisting that he was never aware that the money which was given to him for the election publicity for Jonathan's failed second term bid was money sourced from government coffers.
The search was said to have followed intelligence reports on some of the issues emerging from the grilling of the ex-minister.
Although there was no official statement from the EFCC, a source said: "Such a search is routine in the course of conducting this type of investigation."
A statement by Jude Ndukwe, the Special Assistant on Media to the ex-Minister, said the search was conducted without any warrant.
The statement said: "Earlier today, the EFCC invaded the residence of Chief Femi Fani-Kayode even when he was still in their custody.
"What miffed us most was their mode of operation which was forceful, provocative and dangerous as they wielded their guns with needless threats.
"The worst is that the invasion was without a warrant as they forced their way in, and after terrifying all the staff at home, including the infant, they whisked the laundry man away even though he was later released.
"This is the fourth time the EFCC operatives would be invading Chief Fani-Kayode's residence in just under a week.
"We condemn this act of executive lawlessness, harassment and intimidation. Chief Femi Fani-Kayode has served this country even at the highest levels and he deserves some courtesy.
"We call on the EFCC to endeavour to carry out their functions within the ambit of our laws and stop brazenly betraying the fact that Chief Fani-Kayode is under persecution. The world is watching!"
Fani-Kayode was the Director of Publicity  for  former President, Dr. Goodluck Jonathan's Campaign Organisation, in the last presidential election.
He was  at the EFCC on Monday to answer questions on N840 million he allegedly received before the presidential election.
On Tuesday, the EFCC secured a remand warrant to further detain him.
It said this would enable the commission conduct thorough investigation on the matter.