Ex-MINT boss, Okoyomon, awaits extradition as UK Court convicts Australian accomplice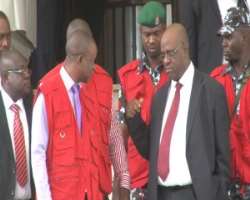 A former manager of a polymer banknote manufacturer, Securency International Pty Ltd of Australia, Peter Chapman, who allegedly bribed Emmanuel Ehidiamhem Okoyomon, a former Managing Director of Nigerian Security, Printing and Minting Company, NSPMC, (facing extradition proceedings in Nigeria), to secure a 'multi-million-euro' contract, was on May 11, 2016 convicted by a Southwark Crown Court in the United Kingdom, UK.
The news of his conviction was today relayed by Serious Fraud Office, SFO, to the Acting Chairman of the Economic and Financial Crimes Commission, EFCC, Ibrahim Magu, who was on a visit to the SFO in London. The visit was part of efforts to strengthen cooperation between the SFO and the EFCC.
The trial of Chapman, according to the SFO, began on April 4, 2016.
Among other allegations, he was said to have paid bribes in order to secure orders for the purchase of reams of polymer substrate from Securency. The total value of the bribes, he was convicted of paying to the agent was approximately $205,000.
The SFO's director, David Green, said, 'This has been a long, detailed investigation and a complex prosecution involving assistance from a wide range of jurisdictions. Crimes like this damage the UK's commercial reputation and this conviction shows that such activity will not be tolerated.'
In expressing its delight at the successful prosecution of Chapman, the SFO expressed gratitude to the EFCC, along with other law enforcement agencies including Australian Federal Police, the National Crime Agency, the Metropolitan Police, the Central Authority of Nigeria and authorities in Brazil, the Seychelles, South Africa, Canada and Spain for their assistance in this case.
Chapman was arrested at Heathrow Airport in April 2015, having been extradited from Brazil, and was charged with six offences under the Prevention of Corruption Act 1906 on April 30, 2015.
His co-accused, Okoyomon, who arrested by the EFCC for his role in the bribery scam, is however, currently battling to stop his extradition from Nigeria to the UK for trial. Justice E. S. Chukwu of a Federal High Court, Abuja, had on May 4, 2015 ordered that Okoyomon be extradited to the UK to face charges of corruption and money laundering.
However, Okoyomon, through his counsel, Alex Izinyon, SAN, approached the Court of Appeal, seeking for a stay of execution of the order of the court. Through his other counsel, Mike Enahoro, he had also approached a Federal Capital Territory, FCT, High Court sitting in Apo, Abuja, seeking to be granted bail from prison, where he had been remanded after Justice Chukwu ordered his extradition.
However, on September 11, 2015, Justice Valentine Ashi of the FCT High Court sitting in Apo, Abuja ruled as an abuse of court process, the bail application brought before it by Enahoro. The trial judge had berated Okoyomon's counsels for deliberating employing delay tactics to frustrate his extradition to the UK for trial.
In the meantime, Okoyomon awaits the ruling of the Court of Appeal on his application seeking for a stay of execution on the Federal High Court's order that he be extradited to the UK for trial, just as Brazil did for Chapman.
Okoyomon's extradition is being sought by the UK government over his alleged role in the bribery allegation involving officials of Central Bank of Nigeria, CBN, the NSPMC and Securency International Pty Ltd of Australia between 2006 and 2008.