Popular Socio-Political Crusader, Comrade Kenneth Uwadi Resign's His Appointment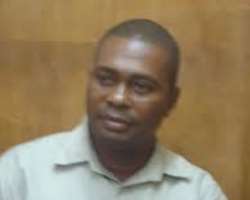 Change Agent and Crusader for Good Governance and better leadership in Nigeria, Comrade Kenneth Uwadi has resigned his appointment with an Oil Servicing Company, ALCON NIGERIA LTD, where he meritoriously served as the Chief Accountant. The socio- political crusader resigned on the 2nd of May, 2016.
In his resignation letter, he cited ethnic bias, witch-hunt and unfavourable working conditions amongst others, as the reasons for his resignation from the company he joined on the 17th of May 2003. ALCON (NIG) Ltd is an oil servicing company with its Operational Headquarters in Port Harcourt, Rivers State and offices in Delta State, Lagos State, etc. It is estimated that 98% of the company's workforce are Yoruba.
Comrade Kenneth Uwadi, a graduate of the University of Port Harcourt is the owner of a popular hospitality industry in Imo State (name withheld). He is also a popular blogger and owner of the Famousnaija.com, which stormed the internet cyber space with "atomic-audacity". Kenneth Uwadi is an opinion moulder and prolific writer with over 3,000 published articles to his credit…..
In 2011, he was named among the four internet writers any government in Nigeria should be afraid of, due to his forensic and insightful style of writing. The others include, Citizen Ikenna Samuelson Iwuoha, Comrade IkennaAnokute and Mr. Stephen Nwahiri
Comrade Kenneth Uwadi, a master of narrative and expository writing has used his pen boldly and fearlessly to wage War Against Corruption, War Against Inept Leadership, War Against Child Abuse, War Against Drug Abuse, War Against Women Molestation, War Against Indiscipline, amongst others. The socio- political crusader has also used his very powerful pen to proffer solutions to the various problems and challenges confronting our Nation Nigeria. He is equally the founder of the popular Non- Governmental Organization- Youths for Human Rights Protection and Transparency Initiative (YARPTI). The NGO has strong presence in Nigeria. Conversely, Comrade Kenneth Uwadi can best be described as a GENERAL in the field of writing. He has indeed conquered many territories for the down trodden masses of this country, Nigeria.
Now that Comrade Kenneth Uwadi has resigned his appointment with the oil servicing company, he is set to move his socio- political crusade work to the next level. He has just floated a newspaper company which he intends to use to further assist the Government to fight corruption and evils by exposing devilish elements in the society, and there will be no sentiments.
Kenneth Uwadi, a good family man is married with children