Two Nigerians, thirteen others to be executed for drugs in Indonesia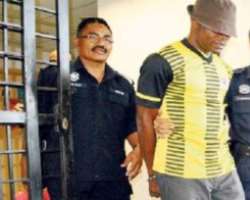 Two Nigerians are among 15 convicts on death row in Indonesia scheduled to be put to death, according to media reports.  Eight others are also foreign nationals who breached the country's stiff drug laws.
Liliek Darmanto, Central Java Police spokesman, confirmed that authorities were preparing a new round of executions.
He said one Pakistani, two Nigerians, two Senegalese, one Zimbabwean and four Chinese nationals were among those to be executed.
"There are five Indonesians, one woman and four men and there are 10 foreign citizens," he said.
Darmanto said among other foreigners on death row for drug trafficking were Mary-Jane Veloso from the Philippines, Lindsay Sandiford from Britain and Frenchman Serge Atlaoui, but did not clear if they were among those scheduled to be put to death.
He said no date for the execution had been set, but that 150 police shooters had been appointed to carry out the task.
He added: "They have practiced for days, so that the execution can be conducted any time."
Under Indonesian law, each convict would face a squad of 10 shooters.
Last year Indonesia executed 14 convicts, all but two of them foreigners, in a move that drew international condemnation.
At least 121 people are currently on death row in Indonesia, including 35 foreigners, mostly convicted of drug-related crimes, according to the Justice Ministry.
Indonesian President Joko Widodo, who took office in 2014, has taken a tough stance against drug trafficking, saying that the country was facing a drug emergency.