Iwu Sack: Journalist Receive Death Threat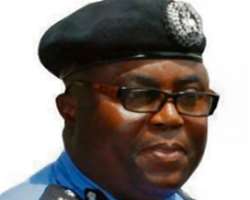 Huhuonline.com understands that the fall out to the sack of the Chairman, Independent National Electoral Commission, INEC, Professor Maurice Iwu, has assumed a disturbing dimension; as some journalists have received text messages with a threat that they
will soon be dealt with like Dele Giwa and others.
Our checks reveal that the text message which was sent with GSM number 08063623794, had the following names, Gbenga Aruleba (AIT), Yusuf Ali (The Nation); Olusola Fabiyi (The Punch), Chuks Okocha (Thisday).
The text read in part, "You all have no hiding place, you must be happy now that Professor Maurice Iwu has been sacked due to your bad stories and reports. We willl deal with you soon. Remember Dele Giwa, Bayo Ohu and Edo Ugbagwu? Good luck"
Recall that the Acting president, on Wednesday directed the Chairman of the Independent Electoral Commission, INEC, Professor Maurice Iwu, to proceed on pre- disengagement leave with immediate effect.
However, the controversial ex- chairman of the Independent National Electoral Commission (INEC) Professor Maurice Iwu, has refused to handover the commission's affairs to the next in line, despite his sudden sack .
Huhuonline.com learnt that Iwu was snubbed by Goodluck Jonathan, who refused to see him when he appeared at the Acting President's office to protest the order for him to disengage from INEC five weeks prior to the his expiration of his tenure.
However, politicians have began lobbying the office of the Acting president for the INEC job. Sources told that the incumbent minister of information, Prof. Dora Akunyili is ready to give up her job as minister for the INEC chairmanship
|
Article source