Fayose: The Blind Hawk Next Door!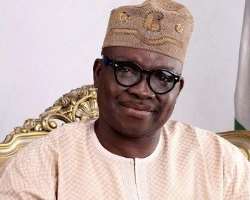 Honestly, elders and leaders of thought in the southwest Nigeria must watch it! This is a wake-up call that is coming against the backdrop of unlikely political developments in the zone. A felon from the south west is sitting in the hallowed chambers of the Nigerian Senate, a virtual bandit is occupying a government house while fly-by-night politicians occupy strategic public offices in the south west. The picture is not looking good for the south west!
In developing economies, such as Nigeria's, there will always be the temptation for people to do the bidding of brigands with deep pockets. But, even at that, voters in the south west must resist the urge of electing brigands, no matter the depth of their pockets, into public office! The south west cannot afford to become the proverbial ball for all to kick around.
Specific reference here is to the characteristic impudence of Ekiti state governor, Ayodele Fayose, which threatens to rubbish the image the Yoruba have built for themselves. To describe Ayodele Fayose's conduct as shameful is to beg the question: at the risk of sounding immodest, only a troubled mind is capable of what the governor's actions! It is not for fun that one columnist wondered how the governor's wife, Feyisetan, has weathered the storm with a man of such insufferable insolence! But, this is by the way.
The shameless conduct of Mr. Fayose only confirms what an estranged buddy said of the irascible governor. Just before Mr. Fayose emerged candidate, of course with the backing of former president, Goodluck Jonathan, who apparently needed a goon as his arrowhead in the southwest, a young man dropped from the blues to tell Nigerians to 'read' Mr. Fayose's lips, whatever it meant, to understand him! Ugh! The estranged Fayose buddy did not elaborate beyond suggesting, as many Nigerians advocate, that prospective public office holders undergo psychiatry tests.
Curiously, some supposed Ekiti elders who care less about 'reading' lips are busy justifying the perennial dryness of Mr. Fayose's lips. Early last year, one such supposed elder employed an inappropriate African saying to rationalise Fayose's by suggesting that it is imperative to breed mad men from within as part of preparations to confront mad men from without! In essence, the doctrine of the elder is that, in its dealings with other Nigerians, the Yoruba need unstable minds to press their agenda! This reasoning stands logic on its head because it creates the untenable impression that the Yoruba are anarchic.
It's about time Ekiti elders and leaders of thought admitted Fayose was a mistake. In place of condemnation, all we get is the lame narration of how the governor used stolen funds to send voters' conscience on holiday and how one lazy army general, apparently induced by Fayose, led two equally lazy cabinet members of the Goodluck Jonathan government to enforce strict orders of the president to rig Fayose into office! These are facts for that caused one army general his commission but, did the shameless and disgraced general and the felonious Jonathan ministers force Ekiti voters to take oath of secrecy after collecting Mr. Jonathan's money to vote for Fayose?
Like many Nigerian politicians, Ayodele Fayose must have done very nasty things to reach his present post in life. But whatever he did is known to him, those who acted in his behalf and his creator. And, only God knows what Mr. Fayose will do to remain relevant and for how long he succeeds. Anyone with a morbid interest in death can go to any length to give effect to their wish! The people of the appropriately-named Fountain of Knowledgeshould shudder at the thought that they have ignominiously been recorded as a people who, in the 21st Century, entrusted their destinies in the hands of a virtual outlaw!
If truth be told, the famed sophistication of south west Nigeria was dealt a devastating blow the day Fayose re-appeared on the political scene. The advantage enjoyed by the south west is the free education programme of the defunct western regional government headed by late Chief Obafemi Awolowo. It is no mean feat that Ekiti state, as it is known today, is reputed to have the highest turnout of intellectuals in Nigeria courtesy of the free education programme!
If this is contradictory, deliberate effort should be made to discourage its spread. Sophistry and banditry should have no place in the present south west that has achieved a comparatively high level of political sophistication. It really does not matter now that ordinary voters in Ekiti now openly confess their mistake in giving Mr. Fayose a look-in. This is hardly surprising because this is the same man who dragged the state in the mud after he virtually emptied the till before he was thrown out of office. What was the attraction in considering a deviant for the post of governor?
Many could not have forgotten that Ayo Fayose was on the brink of political extinction before his emergence as governorship candidate. Needless to say that Fayose's rancorous emergence, at the behest of Mr. Goodluck Jonathan, threw the PDP into irreconcilable confusion that forced prominent chieftains either to withhold their support or defect to other parties. Even on the eve of the election, many PDP chieftains took out full-page advertisements to display their lack of confidence in their party's nominee. So, how did a virtual outlaw defeat an acclaimed high-achieving sitting Dr. Kayode Fayemi, now minister of solid minerals development?
Few eyebrows would have been raised had voters in some other state voted out a diligent and hardworking governor! But, hell!, this is not just another state; this is Ekiti, the famed fountain of knowledge! And this is one reason leaders of thought in the south west should watch it! If it happened in 'politically correct and sophisticated' Ekiti, no one should delude themselves that it cannot happen elsewhere in the southwest.
This will not be a good tribute to the memory of Chief Awolowo whose compulsory and free education programme was largely targeted at producing a proud people who will not turn themselves into the quintessential football for all to kick around.
Certainly, Chief Awolowo did not labour so hard to implement a free education programme that will produce unquestioning citizens who sacrifice integrity and self-esteem at the altar of stomach infrastructure and allied hollow political neologisms!
Wish I was wrong!
Magaji is based in Abuja and can be reached at < [email protected] >
Disclaimer:

"The views/contents expressed in this article are the sole responsibility of the author(s) and do not necessarily reflect those of The Nigerian Voice. The Nigerian Voice will not be responsible or liable for any inaccurate or incorrect statements contained in this article."