Boko Haram Have Come And Gone And Left Us With Social Problems—CAN Chairman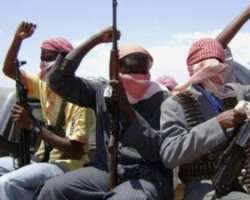 The Christians Association of Nigeria (CAN) Chairman of Adamawa state Chapter, Rt Dr Bishop Mike Moses told Journalist in Yola that the issue of insurgency is gradually dying off but living the returnees internally displaced persons with serious social problems that need Government urgent attention.
Moses explained that those recaptured towns like Mubi,Michika, Hong,Maiha are still suffering from Skelton services of Banks and Mobile phones services.
He urge the Government to put More attention on the returnees in the area of Healths, institution, Water, Agriculture and Electricity which were seriously affected by the activities of the insurgents.
While taken time to appreciate the Federal and Adamawa state Governments for working hard to chase out this social miscreants called Boko Haram in the entire North East, he reminded both Christian and Muslim to cultivate the habit of tolerating one another, appreciating one's religion school of thoughts.
"We thank God there is relatively peace in the entire North East,at least all the captured areas by Boko Haram have liberated what left is a social problem which could be more dangerous of the dreaded Boko Haram", He said
" As am talking to you there is tense enmity between Michika Muslim and Christian shifting blames,accusing and counter accusing one another of bringing Boko Haram, innocents people are being killed of joining the group, the only day of visiting the Market in the town is been divided into two along religion basis which was not like that".
Adding that is not going to work well in the peaceful cooperate coexistence of the people which might degenerate to another serious problems if not curtail well by the Government.
He also advice the government to make sure that they evolve all stakeholders on the Plans to rebuilt the ruined North East by the newly established Ministry of North East.