FG may have begun amnesty programme for 'repentant terrorists'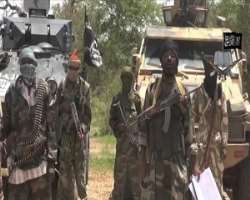 There are indications that the Federal Government led by President Muhammadu Buhari may have commenced Amnesty programme for Boko Haram insurgents, even without getting parliamentary support for the programme.
It was reliably gathered that about 800 members of the Boko Haram insurgents were currently being trained in vocational skills under the programme tagged, "Safe Corridor initiative", even as more of the insurgents were being urged to drop their weapons and join the programme.
The disclosure on the amnesty programme was made public on Monday at the public hearing on a Bill for the establishment of the North East Development Commission (NEDC) by Alhaji Sani Sidi, the Director General of the National Emergency Management Agency (NEMA).
The Senate on Monday assured that the Bill on the establishment of the North-East Development Commission (NEDC) would be laid for third reading, latest by May 25.
Dr. Bukola Saraki, Senate President; and Senator Abdul-Aziz Murtala Nyako, Chairman, Senate Committee on Special Duties, gave the assurance in their speeches delivered on the occasion on Monday.
The disclosure of the commencement of the amnesty programme may have come as a shock as the Federal Government had severally denied establishment of any form of amnesty programme for the terrorists who have continued to waste human lives in the North East states at will.
The NEMA boss, Sidi, who made the disclosure while speaking at the event disclosed further that the programme for the rehabilitation of the Boko Haram fighters was being co-ordinated by the Office of the Chief of Defence Staff, Lt. General Gabriel Olonishakin.
Though details of the program look sketchy but in defending the programme, the NEMA boss, Sidi said that the programme was conceived to provide a leeway for repentant members of the sect to turn a new leaf.
In his own words, "It is not true that the Federal Government has no amnesty package. There is what is called safe corridor. I do know that 800 plus (Boko Haram) have been registered. I don't want to be specific. They have exited Boko Haram through the window. They are currently receiving various skill acquisition trainings. The military is handling it. It is being monitored by the Office of the CDS."
-Emmanuel Ikechukwu